2023 Toyota Tacoma EV Preview Model Info & Release Date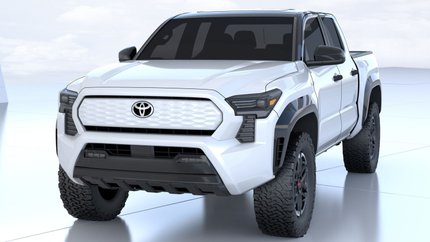 Model Preview
Toyota recently unveiled concept vehicles representing its next generation of EVs. One appears to be a midsized truck bearing a striking resemblance to the Tacoma. Although the brand hasn't confirmed if the model will be called the Tacoma EV or when it might be released in the United States, it could be an exciting prospect.
The current Tacoma is only available as a gas-powered truck. It lacks the diesel we've seen in competitors like the Chevy Colorado, and doesn't offer the fuel economy advantages of smaller vehicles like the Ford Maverick. Although Toyota invested heavily in hydrogen fuel-cell electric cars, it's relatively late when it comes to EVs.
While the notion of an electrified pickup wouldn't be entirely surprising, an EV Tacoma would represent a major departure from past Tacoma generations. Just for reference, the larger Tundra pickup will add a first-ever hybrid variant called the i-FORCE MAX for 2022. It's unclear if a Tacoma Hybrid is in the cards as well.
We'll email you as soon as the 2023 Toyota TACOMA EV becomes available.
Toyota's next EV pickup could emerge with its so-called Beyond Zero (bZ) family of electric vehicles. Sadly, a timeframe has not yet been released for the truck. As a result, we don't yet know if a potential Tacoma EV could arrive as a 2023 or 2024 vehicle. The brand says it plans to introduce at least 30 EVs globally by 2030.
Rumors of a 2023 Tacoma redesign could point to something exciting for the coming year. An early report claimed the next-gen Tacoma could share the same platform as the Tundra to save on development costs. We'll have to wait to know more about what to officially expect in terms of Tacoma production dates and pricing.
Stay tuned for updates as they become available.
Pictured: Toyota Tacoma Teaser