The Volkswagen Atlas Cross Sport arrived in 2020 as an all-new vehicle, giving the German automaker an option in the expanding coupe-like SUV segment. With the 2023 Atlas Cross Sport set to enter its fourth model year on sale, the midsize SUV is expected to arrive with a redesign.
The current Atlas Cross Sport features a chunky muscular design. We expect a lot of the design elements to remain the same, but we could see the 2023 Atlas Cross Sport arrive with an updated bumper, slimmer headlights, sharper taillights, and new wheel designs. The current Atlas Cross Sport has a conservative design with clean lines and simple elements. Since that's Volkswagen's design language across all of its vehicles, we don't think the 2023 Atlas Cross Sport will depart radically from the current SUV on sale.
On the inside, the current Atlas Cross Sport has a simple interior design with straight lines, few curves, and a straightforward center console layout. For the 2023 model year, we could see Atlas Cross Sport adopt a more premium and tech-forward look. We could see the 2023 Atlas Cross Sport arrive with nicer interior materials, fewer physical buttons on the center console, and a redesigned dashboard.
Volkswagen could fit the 2023 Atlas Cross Sport with more high-tech features as part of the redesign. The current SUV comes with a small 6.5-inch touchscreen as standard. It includes Android Auto, Apple CarPlay, six audio speakers, Bluetooth, and a USB port. An eight-inch digital instrument cluster is also standard. The current Atlas Cross Sport is available with an eight-inch touchscreen, navigation, a wireless charging pad, a 12-speaker audio system, and a 10.25-inch digital instrument cluster. We expect Atlas Cross Sport's standard infotainment system to grow in size for 2023.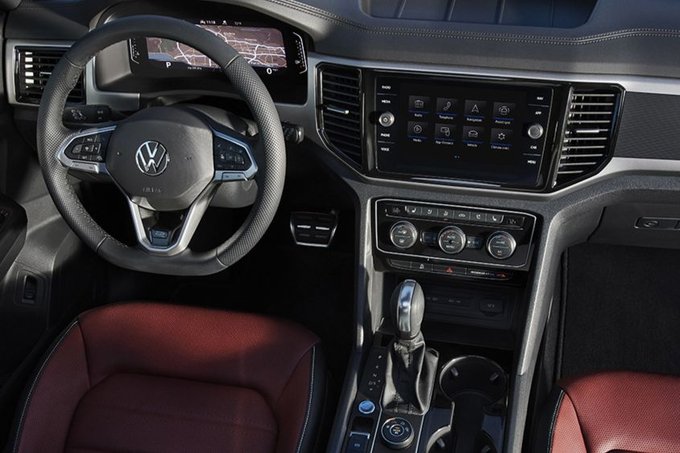 The current Atlas Cross Sport comes with a standard turbocharged 2.0-liter four-cylinder engine. It's rated at 235 horsepower and 258 pound-feet of torque. A larger 3.6-liter V6 engine that makes 276 hp and 266 lb-ft of torque is available. Both engines are paired with an eight-speed automatic transmission and are available with all-wheel drive with front-wheel drive being standard. While these engines will probably stick around for 2023, they could get updates to make more power.
On the safety front, Volkswagen offers a few advanced safety features as standard on the Atlas Cross Sport. We think Volkswagen will make a few more features standard, but things should remain mostly the same for the 2023 redesign. Forward collision warning, pedestrian detection, automatic emergency braking, rear cross-traffic alert, and blind-spot monitoring are standard. Available safety features include lane-keeping assist, traffic sign recognition, adaptive cruise control, park assist, a surround-view parking camera, and parking sensors.