2024 Audi A6 Preview Redesign Info & Release Date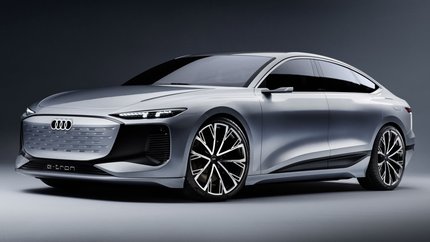 Model Preview
The internal combustion-powered Audi A6 will be joined in the lineup by an all-electric model, called the A6 e-tron. We expect the 2024 Audi A6 to receive a refresh, while the A6 e-tron will be arriving as a new model.
According to spy shots from Motor Authority, the revised A6 will feature slight adjustments to the grille and front fascia, as well as updated head and tail lights. It is still unclear how extensive the changes to the interior or under the hood will be, but we don't expect anything major.
The addition of an e-tron model will be a major change though. Audi initially unveiled the A6 e-tron concept in 2021, with the production model set to be unveiled next year. There will also be a high-performance RS variant.
We'll email you as soon as the 2024 Audi A6 becomes available.
Assuming it stays relatively true to the concept, the e-tron variant will feature a much more striking exterior design than the traditional A6. The concept features sharp lines and a distinctive widebody stance, complimented by 22" wheels. The e-tron's unique stance and aerodynamic components allow for a drag coefficient of just .22.
Audi hasn't released any powertrain or performance data yet, but we do know the A6 e-tron will ride on the same platform as the upcoming electric Porsche Macan and other Volkswagen Group EVs. The concept model was said to feature a dual-motor setup that develops 470 hp and 590 lb-ft of torque, but it is unclear if this will be one of the available powertrains in the production model.
Details on neither the A6 e-tron's interior nor the refreshed traditional A6 have yet to be revealed. The current A6 features a cabin that's reserved yet modern and sleek. Most of the controls are either found on a touch-sensitive panel below the touchscreen or in the touchscreen itself. Wi-Fi, wireless smartphone connectivity, navigation, and the Audi Digital Cockpit configurable gauge cluster are all standard.
Audi hasn't revealed an official release date for either A6 variant, but we know the e-tron will be revealed in 2024. We expect the regular A6 to be revealed slightly earlier.
Pricing hasn't been announced for either model, but we expect an incremental increase to the current A6's $57,995 starting price. The e-tron will almost certainly carry a considerably heftier price tag.
The 2024 Audi A6 will compete with the BMW 5-Series, Mercedes-Benz E-Class, Porsche Taycan, Tesla Model S, and Genesis G80.
Pictured: Audi A6 e-tron Concept
Source: Motor Authority
Available Now