2024 Audi Q5 Preview Redesign Info & Release Date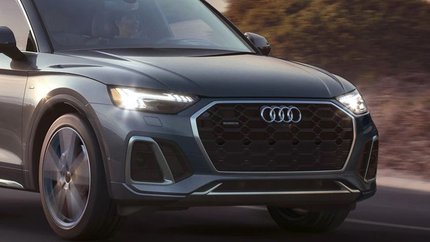 Redesign Info
Audi has some good news for consumers who love Q5. The popular compact SUV is receiving a redesign for 2024 Motor 1 has caught some spy shots of what appears to be this restyled vehicle driving around, suggesting ongoing development. While there is still some mystery surrounding this next-gen model, what we do know is quite interesting.
The spy shots in question show outlines of features that could be telling. To start, the car itself appears to be a bit bigger with a longer wheelbase than the previous model. If this is true, it could mean more cargo space on the interior of the car. The headlights look slimmer, and the grille appears to be single-framed and bookended by new air curtains on either side. The face of the SUV is set above a wide lower bumper, giving the overall front-end appearance a more aggressive look. The rear of the car is too hidden to be truly revealing, with only the taillights and tailpipes looking remotely different. The 2024 Audi Q5 seems to remain traditional in its styling, but we'll have to wait and see to be sure.
There's been no news on what changes may occur on the inside of the new Q5, but redesigns typically mean larger screens, the latest in entertainment and media, more hands-free features, and more safety tech.
We'll email you as soon as the 2024 Audi Q5 becomes available.
Under the hood, this compact SUV is likely to have combustion engines with mild-hybrid pairings. Audi, like many automakers, is moving towards EVs, but this doesn't mean the gas engines are going away. The next-generation Q5's powertrain options will probably consist of both gasoline and diesel engines that work with hybrid features and assistance, such as a plug-in hybrid. The all-electric Q5 e-tron is also rumored to be on the way.
Pricing & Release Date
As far as a release date goes, nothing is concrete. The Audi Q5 is still early on in development, and will likely be unveiled next year, making it a 2024 model year vehicle.
Given the updates and new features that will come with this redesign, it's more than likely that the 2024 Audi Q5 will be pricier than the current model's MSRP of $44,495. However, if you're interested in one of the electrified versions, Audi does currently qualify for the federal EV tax credit and state rebates.
The 2024 Audi Q5 will face off against rivals such as the Genesis GV70, Mercedes-Benz GLC-Class, INFINITI QX55, Volvo XC60, and BMW X3.
Pictured: 2022 Audi Q5
Available Now