2024 Honda Odyssey Preview Redesign Info & Release Date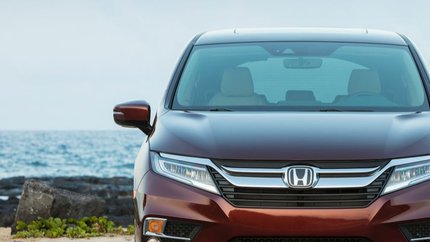 Redesign Info
The Honda Odyssey may be in line for a possible redesign in 2023. However, Honda has not officially announced the next-gen Odyssey and early reports consist largely of speculation. Based on information from industry publication Automotive News, a Honda Odyssey redesign may be in the cards for the 2024 model year.
The current Honda Odyssey was introduced for the 2018 model year and has seen only minor updates ever since. While we think the prospect of a 2023 Odyssey redesign may simply be based on the assumption of a five-year Odyssey generation, it could make the model a fresher choice amid a shrinking field of minivans.
Most recently, Toyota turned its Sienna family-hauler into a hybrid-only vehicle. In the case of the Chrysler Pacifica, buyers have a choice of either a gas engine or an industry-first plug-in hybrid (PHEV) minivan option. Meanwhile, the newer Kia Carnival continues to be an upscale alternative with the latest technology.
We'll email you as soon as the 2024 Honda Odyssey becomes available.
For 2023, Honda has discontinued the Odyssey LX, resulting in a price increase to $38,635. While there is a new Sport trim in the middle of the range, it's equipped in a similar manner as the EX-L and comes with a gloss-black grille, matching exterior trim, and 19-inch wheels. Honda is also including 2 years of free maintenance.
Will the next-gen Odyssey offer a hybrid or even a plug-in option? That remains to be seen. At the moment, the only Honda hybrids you can buy are the Insight, Accord, and CR-V Hybrid. EPA fuel economy ratings for the current Odyssey minivan aren't great at 22 mpg overall, compared to 36 mpg for the Toyota Sienna.
One area in which the Odyssey arguably lags is not having an all-wheel-drive option for harsher climates. In contrast, the Sienna continues to offer both FWD and AWD configurations. At this time, we do not yet know if the next Odyssey will share a platform with the rumored 2023 Honda Pilot redesign expected this year.
Based on past Odyssey on-sale dates, we estimate a 2024 Odyssey release date in the first half of 2023. However, we do not yet know if a global chip shortage will affect or potentially delay the vehicle's launch. Stay tuned for updates as they become available.
Pictured: 2022 Honda Odyssey
Available Now