2024 Jeep Gladiator Preview Model Preview & Release Date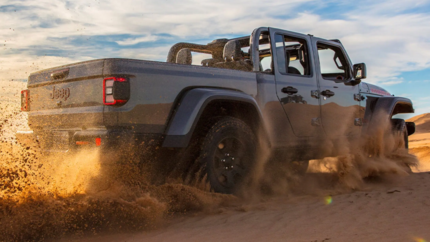 Model Preview
Last year, Jeep announced it would be making an electrified version of the Gladiator truck. The automaker played coy at first, denying the initial rumors, but finally confirmed the news when a prototype was spotted back in June. However, it appears as though we could be waiting a while, as the electrified truck isn't expected until the 2024 model year.
We aren't quite sure what this new truck will look like, though Motor1 speculates that the electrified Gladiator will have some features of the redesigned 2023 Wrangler. Since even the 2023 Wrangler isn't out yet, we'll simply have to wait and see.
Jeep hasn't mentioned whether the truck would be an EV or a hybrid of some kind, but if the 2024 Gladiator takes after the Wrangler, that could also include its powertrain. The current Wrangler is equipped with two electric motors and a turbocharged four-cylinder engine with TorqueFlite eight-speed automatic gearbox. That delivers 375 horsepower and 470 lb-ft of torque. Whether or not this exact powertrain will remain in the upcoming Wrangler or if Jeep will improve upon it, we aren't sure.
We'll email you as soon as the 2024 Jeep Gladiator becomes available.
Pricing & Release Date
As mentioned above, we have quite a while to wait still until the electrified Gladiator comes out. Jeep didn't provide us with an estimated release date, though it's fairly certain that it won't debut until after the next Wrangler. Likely, the new Gladiator will be out in mid-to-late 2023 or early 2024.
Since it is going to be at least in part electric, it's reasonable to expect that the price range will be increased from the current Gladiator's MSRP of $39,680. As an electrified pickup, the 2024 Gladiator will most likely face off against competition like the Chevy Silverado EV, Ford F-150 Lightning, Toyota Tundra Hybrid, and Rivian R1T.
Be sure to check back for more information as it gets released.
Pictured: 2022 Jeep Gladiator