2024 Mercedes-Benz EQG-Class Preview Price, Specs, Release Date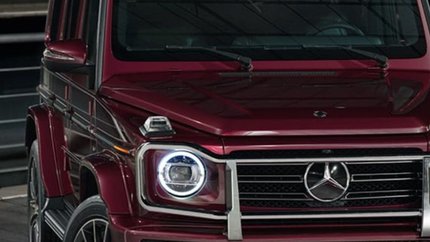 Model Preview
Mercedes-Benz is looking to expand its lineup of electrified vehicles with the introduction of the 2024 EQG. The all-electric SUV will be based on the gas-powered G-Class and should be based closely on the Concept EQG. Just like the G-Class, the EQG will have a boxy design and be able to tackle rugged terrain.
The upcoming all-electric EQG is expected to share the same overall exterior design as the Concept EQG that Mercedes showcased last September. The concept looks nearly identical to the current G-Class, but has more dramatic lighting, a two-tone paint job, large 22-inch wheels, an external carrying case for charging cables on the swing-out liftgate, a clamshell hood, and a grille-less front end. It looks like Mercedes will be sticking very closely to the G-Class' exterior design for the upcoming electric EQG.
Unsurprisingly, the 2024 EQG should have a similar interior design to the G-Class. The EQG Concept features similar lines on the dashboard, a digital instrument cluster and an infotainment screen that's incorporated into a single trim piece, and a few rows of physical controls on the lower portion of the center console. In the concept, Mercedes' touchpad and scroll wheel are located close to the center console storage bin. Thanks to its boxy design, the EQG is expected to have a roomy cabin with a large amount of headroom in both rows.
We'll email you as soon as the 2024 Mercedes-Benz EQG-CLASS becomes available.
Mercedes hasn't shared what kind of tech features the EQG will come with. We think the electric SUV should come with similar tech features as the gas-powered model. That means the EQG could come with a 12.3-inch infotainment display and a 12.3-inch digital instrument cluster. Other standard features should include a 15-speaker audio system, Apple CarPlay, Android Auto, navigation, Bluetooth, two USB ports, and satellite radio. Available features should a Wi-Fi hot spot, a wireless charging pad, and a rear-seat entertainment system with 10-inch displays.
The 2024 Mercedes EQG is expected to have four electric motors – one on each wheel. The EQG would be one of the few electric cars on sale with an individual electric motor for each wheel. The EQG Concept also features a two-speed gearbox. Mercedes hasn't said anything about range or power. We expect the EQG to have more power than the G-Class, which comes with a twin-turbo 4.0-liter V8 engine that produces 416 horsepower.
The all-electric EQG should come with all of Mercedes' modern safety features. Pedestrian detection, forward and reverse automatic emergency braking, blind spot monitoring, front and rear cross-traffic alert, lane departure warning, lane keeping assist, lane change assist, adaptive cruise control, Car-to-X communication, a driver attention monitor, automatic high-beam assist, a surround-view parking camera, automatic park assist, and traffic sign recognition should be standard.
Pricing & Release Date
Mercedes-Benz recently confirmed that the EQG would arrive in 2024. Pricing for the all-electric SUV hasn't been announced yet, but the EQG should start around $150,000.
There aren't many full-size all-electric SUVs on the market yet. When the EQG arrives, it will compete against the GMC Hummer EV SUV, Rivian R1S, and Bollinger B1.