After returning from a brief hiatus for the 2023 model year, the 2024 Nissan GT-R will exist as a carryover model. Although Nissan isn't giving their venerable supercar a comprehensive redesign, the 2024 GT-R does gain some upgrades over the outgoing model. We'll detail those and everything else about the GT-R below.
The current-generation GT-R has been on sale since the 2009 model year, although Nissan has updated it over the years to keep up with the competition. The GT-R has gained power, as well as interior, suspension, aerodynamic, and software upgrades since its inception, and receives its most substantial update in seven years for the 2024 model year.
Notably, the upcoming GT-R will sport a facelifted front grille. The new design is familiar, but adds a much-needed touch of modernity, creating a sleeker look. Speaking of which, the GT-R also received updated aerodynamics to improve downforce. Impressively, Nissan managed to do so without increasing the car's drag coefficient.
The even-higher-performance GT-R NISMO gains aggressive new aerodynamics, predominantly a larger rear wing. The NISMO's canards, front lip, and rear diffuser have also been revised. A front limited-slip differential is offered on the NISMO for the first time as well.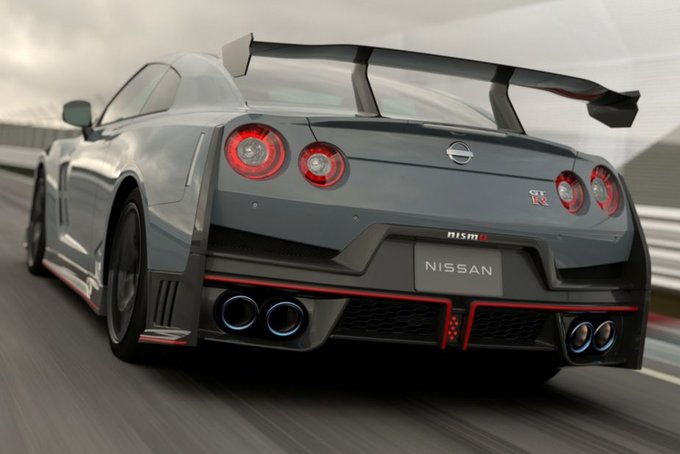 The GT-R's interior remains mostly unchanged, although it was updated substantially in 2016. All trims come standard with an 8" touchscreen that is both Apple CarPlay and Android Auto compatible. The screen is also capable of displaying a configurable array of performance and vehicle data metrics, such as boost, g-force, oil temperature, and even a lap timer. Nappa leather appointments are standard, and there is a new Mori Green upholstery option for the T-Spec trim.
There aren't any changes under the hood for 2024, but the current GT-R was already a force to be reckoned with in the performance department. The twin-turbocharged handmade V6 develops 565 horsepower in the base Premium and T-Spec trims, while turbos borrowed from the GT3 race variant push that figure to 600 in the NISMO.
Power gets to the wheels through a six-speed dual-clutch transaxle with manual shift mode. Bilstein DampTronic shocks, Brembo brakes specific to the GT-R, and Dunlop performance summer tires are all standard equipment.