2024 Subaru Forester Preview Redesign, Pricing, Release Date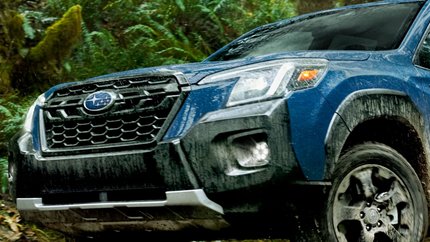 Redesign Info
Subaru hasn't introduced a fully redesigned Forester since 2019. Usually, Subaru introduces a fully redesigned model after a vehicle has been on sale for five years without any major changes. Subaru's history of coming out with redesigned vehicles after five years and reports indicate that Subaru could be working on introducing a fully redesigned Forester for the 2024 model year. We don't have a lot of information on the possible redesign, but here's what could be in store for the SUV.
A redesign could see the 2024 Forester receive a new exterior design. While Subaru hasn't released any official pictures of the 2024 Forester yet, it could receive a similar design to the redesigned Crosstrek. That means the Forester could arrive with slim headlights, an oval grille, and sharp design elements on the front fascia. We expect to see redesigned taillights and an updated rear bumper design at the back.
The current Forester features Subaru's old interior design. For 2024, the redesign would see the SUV receive the automaker's new interior design language. The interior would benefit from a new dashboard design with a vertically oriented touchscreen, fewer interior controls, and updated air vents. The SUV could move to having a larger wheelbase, which would increase interior space.
We'll email you as soon as the 2024 Subaru Forester becomes available.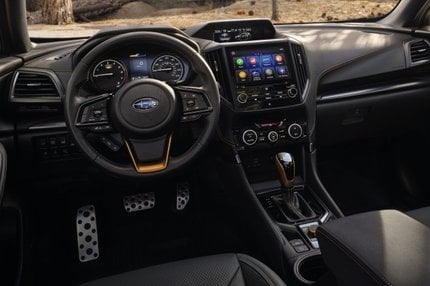 We're not sure what Subaru has in store on the tech front for the 2024 Forester. We expect the redesign to bring more tech features with larger screens and a more advanced infotainment system, but specifics aren't available yet. The current Forester comes with a 6.5-inch touchscreen, Apple CarPlay, Android Auto, Bluetooth, two USB ports, four audio speakers, and satellite radio as standard.
We expect Subaru to offer the upcoming 2024 Forester with a hybrid or even a plug-in hybrid powertrain. Subaru could utilize the electrified powertrains from the Toyota RAV4, so a 2.5-liter four-cylinder engine with two electric motors could be available. In the RAV4 Hybrid, the powertrain makes up to 219 horsepower. The RAV4 Prime has a more powerful version of the powertrain that produces 302 hp. We expect all-wheel drive to continue to be standard on the Forester.
The 2024 Subaru Forester should arrive more advanced safety features. The current SUV comes standard with forward collision warning, automatic emergency braking, automatic high-beam assist, adaptive cruise control, lane keeping assist, and lane departure warning as standard equipment.
Available Now