With Toyota giving the 2023 Highlander a refresh with a new engine and updated tech features, we expect the 2024 model to arrive as a carryover model without any major changes.
As a carryover model, the 2024 Toyota Highlander should have the same exterior design as the current model that's on sale. The Highlander has a conservative design with swept-back headlights that travel halfway up the hood, an oval grille, and a slim air intake. The midsize SUV has a rounded rear end with triangular taillights, cutouts in the rear fender arches, and a tidy rear bumper. The sporty XSE adds some flair to the Highlander with an enormous front air intake, a more aggressive body kit, a large rear spoiler, and a hefty rear diffuser.
Interior designs for the current Highlander vary slightly based on trim. All trims have a Y-shaped dashboard with a tiered design and angular trim. The infotainment system and HVAC controls are integrated into a single trim piece that juts out of the dash and makes the central screen look like it sits on top of the dashboard. Higher trims have a more modern design with a larger screen that's still integrated into a trim piece with the HVAC controls, but the screen fills out more space in the dash. The Highlander can seat up to eight people, comes with upscale materials, and offers a versatile amount of cargo space. We think the 2024 Highlander will come with the same interior design as the current model that's on sale.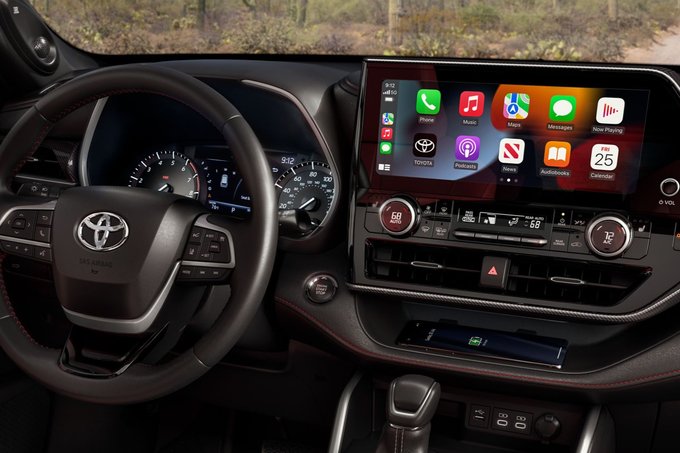 The current Toyota Highlander comes with an eight-inch touchscreen, a seven-inch digital instrument cluster, wireless Android Auto and Apple CarPlay, Amazon Alexa, satellite radio, a Wi-Fi hotspot, Bluetooth, five USB ports, and six audio speakers. We expect these features to be standard for the 2024 model year. Available features should include a 12.3-inch touchscreen, navigation, a wireless charging pad, an 11-speaker JBL audio system, and a 12.3-inch digital instrument cluster.
Toyota offers the Highlander with a standard turbocharged 2.4-liter four-cylinder engine. The motor is rated at 265 horsepower and 310 pound-feet of torque. An eight-speed automatic transmission is standard. The Highlander comes with front-wheel drive, while all-wheel drive is available. This powertrain should continue to be available for 2024.
Safety is a high point with the current Highlander. The midsize SUV comes with automatic emergency braking, forward collision warning, pedestrian detection, adaptive cruise control, lane keeping assist, lane departure warning, traffic sign recognition, lane centering assist, and automatic high beam assist. The 2024 Highlander should come with the same standard safety features. Available safety features include rear cross-traffic alert, blind spot monitoring, a surround-view parking camera, and parking sensors.