Reports indicate that a refresh is possible for the upcoming 2024 Toyota RAV4 Hybrid. Toyota hasn't released any official information on what's in store for the upcoming model year. Here's what we could see with the 2024 RAV4 Hybrid.
A refresh would see the RAV4 Hybrid arrive with an updated exterior design for 2024. We could see the electrified compact SUV gain updated headlights and a revised front fascia with an updated grille. The rear end of the SUV could benefit from similar updates with new lights and a reworked rear bumper. Mid-cycle refreshes tend to be light, so we don't expect a lot to change compared to the current model that's on sale.
We're not sure what Toyota has in store for the 2024 RAV4 Hybrid's interior. The current SUV features a rugged design with large physical controls and a v-shaped section on the bottom of the center console. The tiered dashboard and the way the infotainment screen is positioned on top of the dashboard age the RAV4 Hybrid. We could see Toyota update the RAV4 Hybrid's dashboard and center console layout for 2024.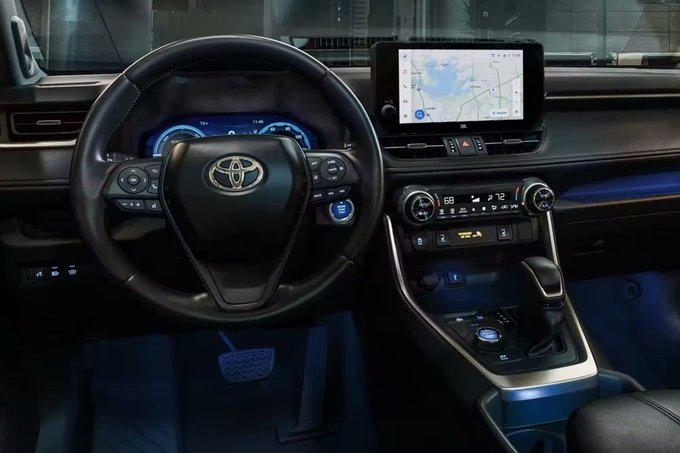 The current RAV4 Hybrid comes with an eight-inch touchscreen, a seven-inch digital instrument cluster, wireless smartphone compatibility, navigation, a Wi-Fi hotspot, six audio speakers, Bluetooth, and three USB ports. Available features include a 10.5-inch touchscreen, a 12.3-inch digital instrument cluster, two extra USB ports, and 11 audio speakers. We expect these features to continue to be available for the 2024 model year.
We don't think Toyota will update the RAV4 Hybrid's powertrain for 2024. The current SUV comes with a 2.5-liter four-cylinder engine and two electric motors. The total output is rated at 219 horsepower. Every RAV4 Hybrid comes with an all-wheel drive and a continuously variable automatic transmission. The RAV4 Hybrid can get up to 40 mpg combined.
Toyota offers the current RAV4 Hybrid with an extensive list of standard safety features, which shouldn't change for 2024. The hybrid comes with forward collision warning, automatic emergency braking, adaptive cruise control, lane departure warning, lane keeping assist, traffic sign recognition, and automatic high-beam assist. Available features include rear cross-traffic alert, blind spot monitoring, a surround-view parking camera, as well as front and rear parking sensors.