2024 Volvo EX30 Preview Model Preview & Release Date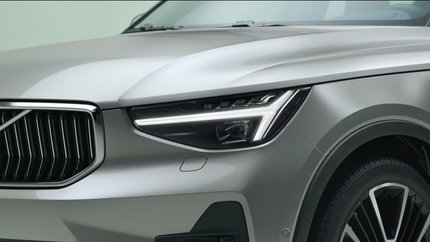 Model Preview
The all-new Volvo EX30 all-electric EV may be making its way to the U.S. but reports are unconfirmed. The new SUV promises to be the smallest in the Volvo range and is targeting a younger demographic than Volvo currently enjoys. The vehicle is confirmed for a mid-June reveal date, at least in Australia.
In an interview with the Australian website Carsales, Volvo Cars CEO Jim Rowan said that the new smaller SUV "will be a really nice price point I think for an entry point – very safe, decent range, good size still but smaller than the [XC]40."
Currently, the smallest vehicle in the Volvo lineup is the XC40. We expect an EX30 to have the same underpinnings, and to be a sleeker, shorter-range vehicle designed for city driving where there's a concentration of battery charging infrastructure. A shorter range, however, means a smaller battery. We think that's the direction that Volvo is heading based on comments made by Rowan.
We'll email you as soon as the 2024 Volvo EX30 becomes available.
According to Carsales, he also said "the EX30 would more than likely appeal to folk[s] looking to downsize their vehicles, especially if they "don't have a lot of mileage" to cover or have a home EV charger. " This leads us to believe Volvo is looking to keep customer costs down by making vehicles lighter, with smaller battery packs. We aren't sure what type of battery the new EX30 will boast when it hits the U.S. market, but Rowan also said that once the infrastructure is there, range is a non-issue.
"So now what we're looking at is that you don't want to be putting in 100kWh batteries in a lot of cars, you want to be putting in a 50, a 30kWh," Rowan said. "As long as you're comfortable enough that you can charge at home or at the shop and there's decent infrastructure, why would you put in more cost and more weight?" Currently, Volvo is focusing on adding more volume to its electric market in Australia and plans to go all-electric there by 2026, before going all-electric globally by 2030.
On the inside, we're imagining a scaled-down version of the XC40 as a base for the new EV. For the EX30 we expect to see a center stack dominated by a touchscreen and a digital instrument cluster, too. The vehicle should have a few small physical controls and shouldn't venture too far from the current design of the XC40. We expect to see Apple CarPlay, Android Auto, and Google to remain standard features.
We're expecting at least the same amount of safety features that you find on current Volvo vehicles including automatic emergency braking, lane-keeping assist, blind-spot monitoring with rear cross-traffic alert, automatic high beams assist, rear parking sensors, road sign recognition, and automatic wipers.