2024 Volvo EX90 Price, Specs, Photos, Release Date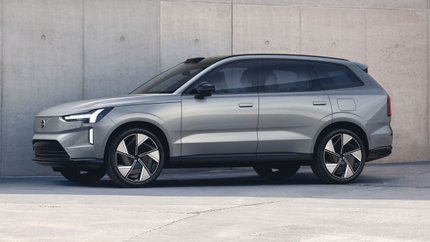 Model Preview
Volvo unveiled its new all-electric EX90 in late 2022 as part of its commitment to electric vehicles. The Swedish luxury brand aims to be entirely electric by 2030, and the new EX90 will eventually usurp the XC90 at the top of Volvo's SUV range, although the two models will coexist initially.
Trim level details for the EX90 aren't clear yet, but we do know that the initially-available dual-motor AWD setup produces 408 hp and has a claimed range of 300 miles. There is also a performance version using the same powertrain that develops 496 hp and 671 lb-ft of torque. Though Volvo hasn't released all of the powertrain or performance details for the EX90, they have teased us with some details of its new technology. Being a Volvo, it shouldn't be surprising that an emphasis has already been put on innovative safety features.
Volvo claims that "the standard safety in the Volvo EX90 is higher than any Volvo car before it," which is no small feat. The EX90 will feature what Volvo calls an "invisible shield," which is seemingly their new collision avoidance system, which features LiDAR, cameras, and ultrasonic sensors. New safety features aren't limited to the exterior of the EX90 either.
We'll email you as soon as the 2024 Volvo EX90 becomes available.
Volvo claims the driver alertness monitoring system which the EX90 is fitted with will utilize advanced eye and focus tracking, and will even be able to pull the car over autonomously if it detects the driver has fallen asleep. Features like this serve as a reminder that the brand is striving to be "100% crashless," which is certainly ambitious, if not a little Orwellian.
The EX90's exterior styling is pretty true with the Concept Recharge which it was based upon. S90-esque taillights grace a sleek but familiar shape that echoes Volvo's smooth and minimalistic design language. The interior is quintessentially modern Volvo as well. In addition to the ultra-clean aesthetic, the EX90 features a 14.5" vertically oriented touchscreen. In addition to its substantial size, Volvo's new screen is notable in that it features Unreal Engine graphics for enhanced computing power.
We do know that the EX90's release will not kill off the XC90, at least for the time being. Volvo announced they will be giving their longtime flagship SUV another facelift before axing it, although we might see the gasoline-only variants of the XC90 phased out sooner with Volvo being so devoted to an electric future. That being said, the XC90 in its current form has always been one of their most reliable sellers, so it'll be interesting to see how things play out.
Pricing & Release Date
Volvo had planned to begin building the new EX90 at its factory in South Carolina in late 2023, but unfortunately, have run into delays. According to Automotive News, Volvo is having issues with the EX90's advanced lidar software and will need several months to iron out the kinks.
The automaker is already taking preorders for the electric SUV. The first Volvo EX90 deliveries are now expected to begin towards the middle of 2024 and will compete with other high-end electric SUVs, such as the Audi e-tron and Tesla Model X. Pricing has yet to be divulged, but Volvo claims it "will be available well-equipped for under $80,000."
It remains unclear whether or not the Volvo EX90 will qualify for a federal EV tax credit. After the Inflation Reduction Act was signed into law in mid-2022, the incentive was limited to EVs assembled in North America.
While it appears the EX90 may satisfy the final assembly requirement, we do not yet know if it will also meet strict battery and mineral sourcing requirements. New MSRP caps of $80,000 for large SUVs and $55,000 for other vehicles could also limit a buyer's ability to take advantage of the tax credit on the Volvo EX90.
Pictured: 2024 Volvo EX90
Source: Automotive News (subscription required)