2025 Audi Q9 Model Info & Release Date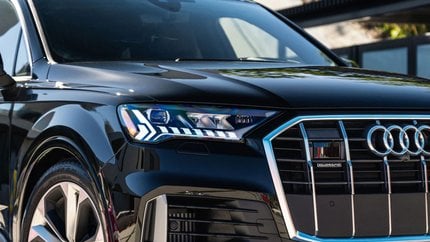 Model Preview
Audi is rumored to be having a busy next couple of years filled with refreshes, redesigns, and new vehicles. One such new vehicle is the 2025 Audi Q9. Not much is known about this car, but let's take a look at what we do know.
Designed for both the Chinese and U.S. markets, the 2025 Q9 is a part of the large premium crossover segment. Slated to be bigger than the Q7 SUV, the Q9 will have three rows of seats for passengers, helping to strengthen the brand's place in the industry's ever-growing SUV segment.
It's speculated that Audi will be giving the Q9 a gasoline engine and that it might be the last ICE vehicle added to the brand's lineup. Which type of engine is currently a mystery, though it's possible that the Q9 crossover could get the same 2.0-liter turbocharged 4-cylinder powertrain that is under the hood of the Q7.
We'll email you as soon as the 2025 Audi Q9 becomes available.
Pricing & Release Date
As far as we know, Audi is currently planning on releasing the Q9 sometime in 2025, though the timeline could always change. The crossover was developed in Germany and some U.S. dealers have been told it should be coming to the U.S. market at some point, though the automaker hasn't stated anything concretely.
Likewise, nothing has been said about the price range of the upcoming Q9. As it's supposed to be bigger than the Q7, it's likely that it will also be more expensive. Since the Q7 has a starting MSRP of $59,395, the Q9 will probably start in the mid-to-high $60,000 range.
As a luxury crossover with three rows, the Q9 will face off against competition like the Jeep Wagoneer, Acura MDX, Volvo XC90, and Mercedes-Benz GLS-Class.
Be sure to check back for possible updates as the release date approaches and more information comes out.