2025 Ford Explorer EV Preview Preview, Pricing, Release Date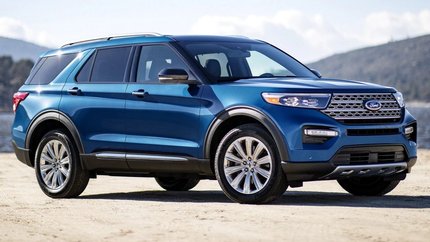 Model Preview
Ford confirmed that it was working on an all-electric Explorer in 2021. Details on the SUV are scarce, but the electric SUV is on track to be introduced in early 2025. Here's what we know about the upcoming electric SUV.
The current generation of the Explorer was introduced in 2020. The 2025 model year will see the Explorer be six years old with the current generation, which would be a good time for Ford to introduce a new generation of the SUV. With that being said, we expect the Explorer EV to share a similar design to the next-gen Explorer. All we know about the Explorer is that it should utilize a flexible EV platform that will support rear- and all-wheel-drive configurations.
On the tech front, the 2025 Explorer EV should come with Ford's latest SYNC infotainment system. The automaker is currently offering its vehicles with SYNC 4, which could be updated by the time the 2025 model year rolls around or be replaced by a new infotainment system. Ford's current electric vehicles that come with SYNC 4 are available with touchscreens that range from 12 to 15 inches in size.
We'll email you as soon as the 2025 Ford Explorer EV becomes available.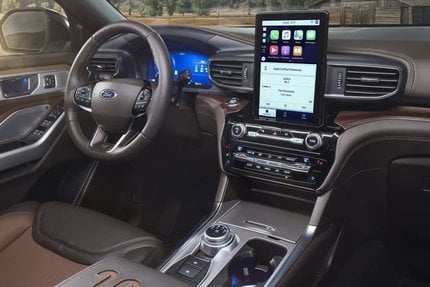 At the moment, we believe that the 2025 Explorer EV will share the same electric motors and battery packs as the Mustang Mach-E. The sporty SUV is available with a single electric motor on the rear wheels or two electric motors for all-wheel drive. The Mach-E's battery packs include a 70-kWh unit and a larger 91-kWh pack. Horsepower ranges from 266 to 346 hp, while torque ranges from 317 to 428 lb-ft of torque. Depending on the configuration, the Mach-E can travel between 224 to 312 miles. We expect battery capacity and performance from electric motors to increase by 2025, which could result in more power and range.
Ford will offer the 2025 Explorer EV with a suite of advanced safety features. The automaker will most likely offer the SUV with its Co-Pilot360 suite of features. The suite currently includes forward collision warning, automatic emergency braking, lane departure warning, lane keeping assist, blind spot monitoring, rear cross-traffic alert, adaptive cruise control, traffic sign recognition, automatic high-beam assist, and parking sensors. Ford's BlueCruise hands-free driver-assist system is expected to be offered on the electric SUV.
Pricing & Release Date
The 2025 Ford Explorer EV is expected to go on sale in early 2025. Pricing for the SUV remains a mystery, but a good estimate is that the electric vehicle will start at $50,000.
The all-electric segment is constantly changing, so it's hard to say what the 2025 Explorer EV will compete against. As a midsize electric SUV, the Explorer EV should compete against the Rivian R1S, Cadillac Lyriq, Tesla Model Y, Nissan Ariya, Hyundai Ioniq 5, and Kia EV6.
Source: Automotive News (Subscription Required)
Pictured: 2023 Ford Explorer