2025 Jeep Gladiator Preview Specs, Price, Release Date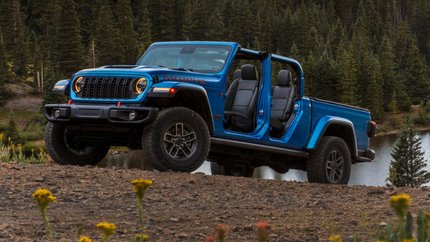 What To Expect
Jeep finally returned to the midsize pickup truck market in 2019 with the introduction of the Wrangler-based Gladiator. This Goldilocks pickup spans the gap between a compact and full-size truck, giving buyers the best of two worlds. On top of that, it boasts the Wrangler's legendary off-road capability, making it a great option for those who put their pickups to good use on and off the beaten path.
Since its arrival on the market, the Jeep Gladiator has seen a few changes, including new editions and shifts in its equipment, but it'll remain mostly unchanged. We expect the 2025 Jeep Gladiator to remain mostly unchanged again, save for one potentially big powertrain update. Here's what we know about the 2025 Jeep Gladiator so far.
Like its source material, the Jeep Wrangler, the Jeep Gladiator will evolve slowly and subtly throughout its lifespan. We expect this trend to remain in the 2025 Gladiator, as we anticipate no significant changes to its design. We could see a few changes in color options and maybe a new edition with some design upgrades, but the base sterling will likely remain.
We'll email you as soon as the 2025 Jeep Gladiator becomes available.
We expect much of the same inside the 2025 Jeep Gladiator. It'll continue with the same rugged but well-laid-out cabin that rages from simple to rather posh, depending on the trim and options you choose.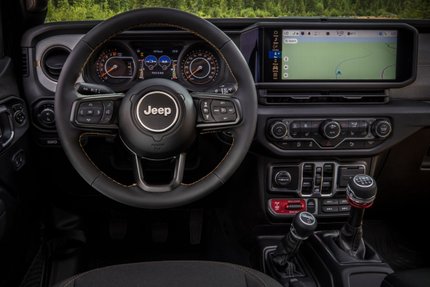 2025 Jeep Gladiator Engine & Specs
Details surrounding the features the 2025 Jeep Gladiator will include are not available yet. However, as a carryover vehicle, we expect most of these standard features to remain the same. If this proves true, this rugged pickup will come standard with manual air conditioning, LED-lighted cup holders, keyless ignition, cloth seating, an eight-speaker audio system, a Uconnect 5 infotainment system with 12.3-inch touchscreen, a 115-volt power outlet, SiriusXM, Bluetooth, and more.
Under its hood, we expect the 2025 Jeep Gladiator to continue with its standard 3.6-liter V6 engine that delivers 285 horsepower (hp) and 260 pound-feet (lb-ft) of torque. We also expect the standard six-speed manual transmission and part-time, shift-on-the-fly four-wheel-drive (4X4) to remain. Buyers will also have the option of an eight-speed automatic transmission and upgraded 4X4 systems.
According to AutoBlog, the big update we could see in the 2025 Jeep Gladiator is the 4xe powertrain option migrating over from the Wrangler. If this happens, we expect it to carry directly from the Wrangler 4xe, meaning it would feature a 2.0-liter turbocharged four-cylinder engine and an electric motor for a combined 375 hp and 470 lb-ft of torque and 20 to 25 miles of all-electric range. This model comes exclusively with an eight-speed automatic transmission and four-wheel drive.
2025 Jeep Gladiator Safety
The official details on the 2025 Jeep Gladiator's safety and driver-assist features remain unclear, but as a carryover model, we expect this to mostly remain unchanged. If this is the case, we expect the 2025 Gladiator to continue with very few advanced safety gear.
The current Gladiator has only basic standard safety equipment, including hill-start assist and a rearview camera. Optionally, buyers can add adaptive cruise control, rear parking sensors, rear cross-traffic alert, forward collision warning, and more.
The current Gladiator did not perform well in IIHS testing, receiving "Marginal" and "Poor" ratings in several tests. Plus, it has no automatic emergency braking option, so it failed this test too. This puts it well out of contention for Top Safety Pick consideration. We expect no changes in these safety ratings in the 2025 Jeep Gladiator.
2025 Jeep Gladiator Price
Pricing is not available yet for the 2025 Jeep Gladiator, but the 2023 model's MSRP starts from $38,990 and tops out at $63,940 (destination fees not included). We could see some mild inflationary changes in this base pricing, though.
As for the 4xe model, pricing remains a wildcard. However, the Wrangler has about a $10,100 premium attached to this model (Wrangler Sport S vs. Wrangler 4xe Sport S), so we expect it to start somewhere in the $53,400 range based on current Gladiator Sport S pricing.
2025 Jeep Gladiator Release Date
Jeep has yet to announce the 2025 Gladiator's release date. Given we have yet to receive the 2024 model so late in the model year, we could see the 2025 Gladiators arriving in early 2024. This means the model would skip the 2024 model year altogether.
Please check back for updates as they become available.
Pictured: 2024 Jeep Gladiator
Available Now