2025 Jeep Wrangler Preview Specs, Price, Release Date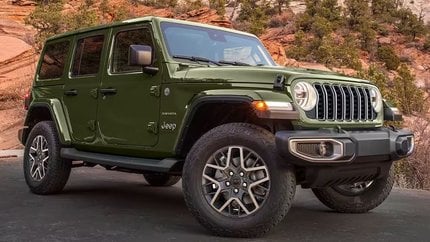 What To Expect
The Jeep Wrangler has long been a legend of the off-road community, but it's also taken a step into the more upscale side recently. This off-road leader is in just its fourth generation, despite being around for several decades, and in 2024 it received updated styling that included a new grille, wheels, and revised interior.
We expect these updates to carry on into the 2025 Jeep Wrangler. The only notable upcoming change that Jeep announced is an "upgrade" to the 4xe plug-in hybrid electric vehicle (PHEV) model.
We'll email you as soon as the 2025 Jeep Wrangler becomes available.
2025 Jeep Wrangler Engine & Specs
The 2025 Jeep Wrangler's features are not available yet, but as a carryover, we expect most of these standard features to remain the same. If this proves true, this off-road-ready SUV will come standard with LED-lighted cup holders, manual air conditioning, keyless ignition, cloth seating, an eight-speaker audio system, a Uconnect 5 infotainment system with 12.3-inch touchscreen, Bluetooth, and more.
Under its hood, we expect the 2025 Jeep Wrangler to continue with its standard 3.6-liter V6 engine that delivers 285 horsepower (hp) and 260 pound-feet (lb-ft) of torque. Buyers can upgrade to a 2.0-liter turbocharged four-cylinder engine that delivers 270 hp and 295 lb-ft of torque. We also expect the standard six-speed manual transmission and part-time, shift-on-the-fly four-wheel-drive (4X4) to remain. Buyers will also have the option of an eight-speed automatic transmission and upgraded 4X4 systems.
Buyers seeking some extra pop can pick up a 392 model, which comes with a 392-cubic-inch V8 engine that delivers 470 hp and 470 lb-ft of torque. This model includes a standard eight-speed automatic transmission and 4x4.
Buyers can also upgrade to the Wrangler 4xe, but it's only available in the four-door model and from the Sport S trim and higher. This model will pair the 2.0-liter turbocharged four-cylinder engine with an electric motor for a combined 375 hp and 470 lb-ft of torque. This powertrain is also good for up to 22 miles of all-electric range. This model comes exclusively with an eight-speed automatic transmission and four-wheel drive.
When Jeep announced its new agreement with the United Auto Workers (UAW) union, it also announced some product updates. This included a mention that the Wrangler would receive an "update" to its PHEV model. This update remains unclear, but it could be the addition of this powertrain in the two-door models starting in 2025. It's also unclear if Jeep means this will be for the 2025 model year or calendar year. The latter could mean this upgrade won't occur until the 2026 model year.
2025 Jeep Wrangler Safety
The official details on the 2025 Jeep Wrangler's safety and driver-assist features are still being fleshed out, but we expect it to be a carryover, so we also anticipate no changes in this area. If this is the case, we expect the 2025 Wrangler to continue with no standard advanced safety gear.
The current Wrangler has only basic standard safety equipment, including hill-start assist and a rearview camera. Optionally, buyers can add adaptive cruise control, rear parking sensors, rear cross-traffic alert, forward collision warning, and more.
The current Wrangler performed quite poorly in IIHS testing, receiving "Marginal" and "Poor" ratings in several tests. Add to this no automatic emergency braking option, so it falls well out of contention for Top Safety Pick consideration. We expect no changes in these safety ratings in the 2025 Jeep Wrangler.
2025 Jeep Wrangler Price
Pricing is not available yet for the 2025 Jeep Wrangler, but the 2023 model's MSRP starts from $38,990 (two-door) to $36,495 (four-door) and tops out at $92,140 (four-door only) (destination fees not included). We could see some mild inflationary changes in this base pricing, though.
As for the 4xe model, the current pricing ranges from $50,695 to $70,990. We could see some inflationary increases to this pricing scale in the 2025 Wrangler.
2025 Jeep Wrangler Release Date
Jeep has yet to announce the 2025 Wrangler's release date.
Please check back for updates as they become available.
Pictured: 2024 Jeep Wrangler
Available Now