2025 Lincoln Star Preview Model Info & Release Date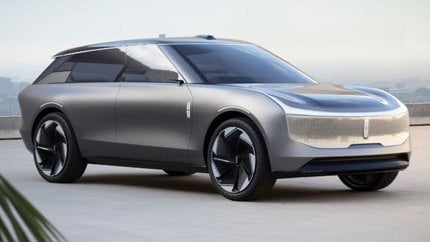 Model Preview
The Lincoln Star is a concept for an all-electric SUV. Rather than representing a new upcoming model, the Lincoln Star represents the brand's vision for a new generation of electric vehicles. A smooth, one-piece-like design for the SUV's front end is unlike any Lincoln model, likely previewing the future face of the brand.
Lincoln's future EV models will be led by three fully-electric vehicles by 2025, plus a fourth EV by 2026. Although we don't yet know if these vehicles will be EV versions of existing Lincoln models, the brand's future could be more daring than one might expect. Ford recently established a new company division devoted to its EVs.
Dramatic lighting effects and sharp creases with nautical references help set the Lincoln Star Concept's design apart from other Ford and Lincoln vehicles. Curved digital displays and 3D-printed latticework have a clean yet sophisticated appearance. However, rear-facing doors may be unlikely to make it to a production vehicle.
We'll email you as soon as the 2025 Lincoln STAR becomes available.
Thus far, the brand's electrification efforts have largely been limited to plug-in hybrids like the Lincoln Aviator Grand Touring. The 7-passenger luxury PHEV boasts a combined output of 494 horsepower with 630 pound-feet of torque. According to the EPA, fuel economy comes in at 56 MPGe overall, with an EV range of 21 miles.
Will the Lincoln Star have the same degree of credibility as a Ford Mustang Mach-E? That remains to be seen. Ford's popular crossover EV has been a hot commodity, with lead times stretching as long as 32 weeks for new custom orders. For now, we'll have to wait and see what Lincoln has in store for its first all-electric SUV.
Pictured: 2025 Lincoln Star Concept