2026 Dodge Durango Preview Redesign Info & Release Date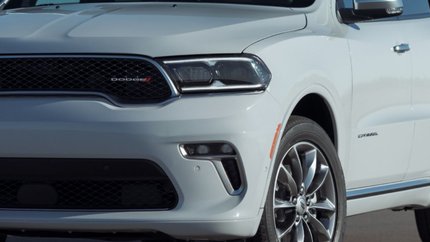 What To Expect
According to a tentative agreement between the UAW and Stellantis, the automaker will come out with a new generation of the Dodge Durango in 2026. Information on the upcoming 2026 Dodge Durango is light, but here's what we know about the upcoming SUV.
We don't know what kind of design the upcoming 2026 Dodge Durango will have. We expect the midsize SUV to have a more modern design than the current Durango that's on sale. The current Durango features a bulbous design with rounded headlights, a U-shaped grille, and a wide front air intake. The rear end of the SUV features a rounded bumper, oval taillights that are connected by two horizontal bars, and dual exhaust outlets.
Dodge should give the 2026 Durango's interior a major overhaul. The current model features an outdated design with a prominent section of physical controls on the center console, a hefty gear shifter, and a relatively small standard display. The current Durango comes with plenty of sporty touches, which we expect will be on display for the 2026 model. We also expect the 2026 Dodge Durango to have a larger interior than the current model on sale.
We'll email you as soon as the 2026 Dodge Durango becomes available.
2026 Dodge Durango Engine & Specs
Stellantis hasn't shared any information on what kind of engine the 2026 Dodge Durango will come with. The automaker has confirmed that the SUV will be available with gas-powered and all-electric powertrains. We're not sure what Dodge has in store for the Durango, though we probably won't see a V8 engine with the SUV.
2026 Dodge Durango Safety
We expect the 2026 Dodge Durango to come with an advanced suite of safety features.
2026 Dodge Durango Price
Pricing for the 2026 Dodge Durango hasn't been announced yet. We should get pricing information closer to the vehicle's on-sale date. Shoppers could be waiting years to get pricing information on the SUV.
2026 Dodge Durango Release Date
All Dodge has said about the 2026 Durango's release date is that it will come in 2026. The SUV could be a 2026 or 2027 model.
Please check back for updates as they become available.
Pictured: 2023 Dodge Durango
Available Now