2026 Kia EV3 Preview Specs, Photos, Release Date
What To Expect<span class="Apple-converted-space"> </span>
Kia unveiled their Concept EV3 this year at the L.A. Auto Show, and the compact SUV is set to take the stage in 2026 as the EV9's littlest brother.
Kia promises that the Concept EV3 will represent the brand's vision for an electric, compact crossover that offers technology, practicality, and design similar to Kia's flagship SUV, the EV9. According to their recent press release, the Concept EV3 features a high degree of inspiration from the "Joy for Reason" pillar of the Opposites United design philosophy. "With the Concept EV3, the 'Joy for Reason' influence is evident in the contrasting qualities of a robust body combined with a dynamic silhouette," said Karim Habib, Executive Vice President and Head of Kia Global Design Center.
On the outside, the design of the Concept EV3 has a unique silhouette, with its windshield pushed forward and a sloping roofline with a floating design. The EV3 features squared wheel arches for a truly unique and bold vision.
We'll email you as soon as the 2026 Kia EV3 becomes available.
Inside the new compact SUV, we find a futuristic yet practical design loaded with ambiance. The interior is sparse and sleek, with a clean dashboard surface. According to Kia, the environment is meant to promote emotional well-being with its soft mood lighting and ultra-clean surfaces. Kia has also implemented advanced ergonomic seat designs made of natural fiber structures to deliver a slimmer seat design. They are said to be strong and give an elegant modern aesthetic to the vehicle. The seats are covered in a 3D knit material, and a sliding table can support different modes for the passenger.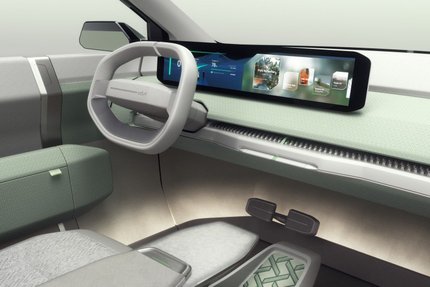 2026 Kia EV3 Engine & Specs
Even though the Concept EV3 was unveiled on November 16, Kia hasn't yet released any official EV3 specs, range, or battery info. Although we do know that the current Kia EV6 was the first in a family of next-generation electric vehicles, EV3 details remain a matter of speculation for now.
We don't have any word on the safety features that the Concept EV3 will receive, but we expect it to have similar safety features to the EV6 which include automatic emergency braking, adaptive cruise control with full-speed capability with lane centering, blind-spot detection with rear cross-traffic alert, safe exit warning, rear parking sensors, driver attention warning, and high beam assist.
2026 Kia EV3 Price
We don't have any information on the starting price of the new Kia EV3, but as a compact electric SUV, we expect it to start in the low $30,000 range.
2026 Kia EV3 Release Date
We don't have any word on the official release date for the EV3. We expect the compact EUV to arrive in late 2025 or early 2026. Kia has been planning to expand its EV lineup for quite some time with up to 7 new EVs by 2027. The automaker's strategy has been significantly more aggressive than Toyota, which is only now introducing mass-market EVs. Could that make Kia a bigger competitor to Tesla's EVs? That remains unclear.
Stay tuned for updates as they become available.
Pictured: 2026 Kia EV3 Concept