2026 Volkswagen Scout Truck Model Info & Release Date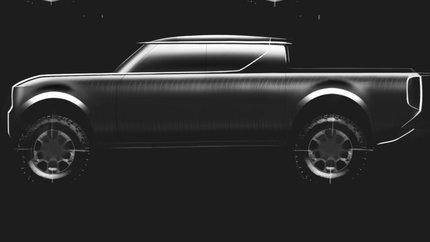 Model Preview
Recently, Volkswagen made a big, unexpected announcement. The automaker is going to be reviving the Scout brand name in order to launch a new sub-brand that focuses on electric off-road vehicles. Having ended production in 1980, this refreshed nameplate is coming back as an independent unit that will be managed separately from Volkswagen but will have access to its technology and will help give VW a footing in the EV segment. Scout is set to begin its new lineup with two, new, all-electric vehicles: an SUV and a pickup truck.
Not much is currently known about either the pickup truck or the SUV. The sketch for the truck shows a somewhat boxy shape that looks as though it will have four doors given how long the cabin is. Scout will likely try to give its truck a more rugged look during production. It's also rumored that the pickup will be around the same size as the Ford Ranger, but we won't know that for sure until the unveiling. In an interview with TechCrunch, Scott Keogh, the CEO of the new Scout Motors said the truck will be geared for a more on-road experience than the SUV, or RUV, as he calls it a "rugged utility vehicle", but both will be off-road capable.
We know nothing about the interior or tech that this vehicle will come with at the moment.
We'll email you as soon as the 2026 Volkswagen Scout Truck becomes available.
One thing we do know is that both of these upcoming vehicles – as well as all the vehicles under the Scout name – they're going to be electric. What kind of battery they will be using isn't clear, but they're expected to be built on a custom, body-on-frame platform historically used by the most capable off-road vehicles. Though Scout will be distancing itself from Volkswagen, the new EV should bring VW some credibility in the EV segment.
Both the Scout pickup and SUV are going to be designed, engineered, and produced in America. Manufacturing will take place in the United States, at Scout's recently announced factory in Columbia, South Carolina. Production is scheduled for 2026, with the first deliveries coming late in the year. The first prototypes should be unveiled next year.
Pictured: Volkswagen Scout Truck Teaser