The Acura TLX arrived as a fully redesigned model in 2021, reviving the automaker's history of manufacturing sporty luxury vehicles. With the sedan entering its second model year since the all-new model was introduced, we expect the 2022 Acura TLX to be a carryover model.
When Acura introduced the all-new TLX last year, it arrived wearing a far more aggressive design than we've seen from the nameplate in the past few years. Sharp headlights, a diamond-shaped grille, and chiseled front fascia all give the current TLX a razor-edge look. Along the side, the sedan wears athletic body lines, highlighting its sporty character. The rear end isn't as outlandish, with triangular taillights and rectangular exhaust pipes. The overall design of TLX will remain the same for 2022.
On the inside, the 2022 TLX will continue to share the same overall design as the current model. The sedan has a unique interior design with hard edges, a distinct center console layout, and clear gauges. The current TLX features Acura's True Touchpad Interface, which features a centrally located touchpad and a few physical buttons that are used to control the infotainment screen.
When it comes to tech features, the 2022 TLX will come with a 10.2-inch display as standard. Apple CarPlay, Android Auto, 10 audio speakers, Wi-Fi hot spot, two USB ports, and Bluetooth will also be standard. Tech features on the 2022 TLX will match the ones found on the current sedan.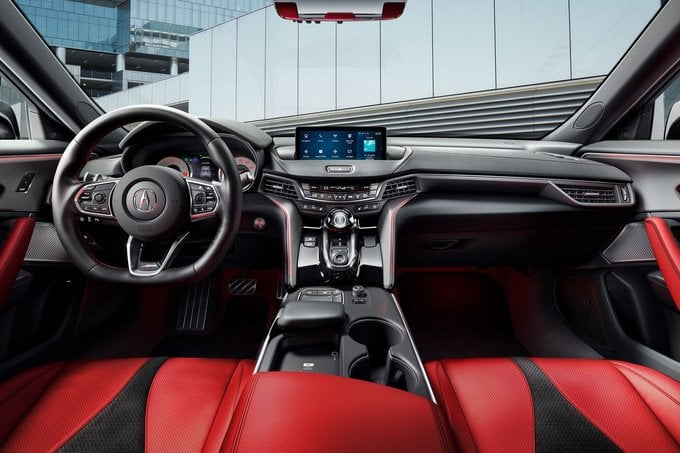 Acura will continue to offer two powertrains with the 2022 TLX. The base engine will be a turbocharged 2.0-liter four-cylinder engine that produces 272 horsepower and 280 pound-feet of torque. A more powerful turbocharged 3.0-liter V6 engine is offered with the TLX Type S. The high-performance engine makes 355 hp and 354 lb-ft of torque. Both engines are paired with a 10-speed automatic transmission. Front-wheel drive will be standard with the TLX, while all-wheel drive will be available.
When it comes to safety features, the 2022 TLX will likely come with the same standard features as the current model. Forward collision warning, adaptive cruise control, pedestrian detection, lane-keeping assist, traffic sign recognition, pedestrian detection, and automatic emergency braking will continue to be standard. Optional features will include rear cross-traffic alert, blind-spot monitoring, a head-up display, and a surround-view camera.