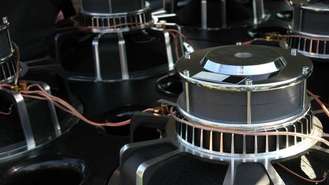 It's certainly not impossible to find cheap subwoofers for sale. It's possible to find a wide array of subwoofers to fit in any type of car stereo setup. For the best results in your search, it pays to know the amount of money that you're willing to spend on subwoofers and car stereo components in total. You should also have a good idea of the size of the subwoofer wanted, and how you plan to install it.
Car dealerships. Go to a used car dealership to find excellent deals on cheap subwoofers. Because used car dealers do not want to turn a car around and resell it with a fancy and expensive car stereo system, they'll routinely remove any custom components, like subwoofers. Then they'll install a stock stereo setup in the vehicle and attempt to resell it. For the best options, contact all of the used car dealers in your area on a regular basis to see what used stereo parts they have; they'll often sell these at a discounted rate, but the subwoofers may go quickly
Craigslist. Another great place to track down subwoofers and other options for your vehicle for cheap is Craigslist. Featuring a number of different ads, you can often find a set of stereo speakers and subwoofers through this website that will meet your needs. If you don't live in a large urban area, it may be helpful to check on the Craigslist site for another city that is relatively close by. Keep in mind also that when you're negotiating with individual sellers, you can often find the best deals on your subwoofers by bargaining and offering items in trade
Cartoys. One of several different websites devoted to swapping and selling old and aftermarket car parts, Cartoys is a great place to look for specific models of subwoofers. The selection through this website is often superior to what you'd find on a general auction or classified ads website, so it's a good bet that you'll be able to locate a specific type of subwoofer here
eBay. eBay is another excellent place to find a great mix of different car audio equipment, including subwoofers. Be sure to check out a seller's ratings and approval before you make any purchases through this website, however, in order to be sure that you won't receive a bad deal on an item
4 Reliable and Cheap Car Subwoofers
Expensive subwoofers often provide a larger, higher quality sound, but for many cars and for many preferences in car audio systems, a smaller subwoofer will accomplish every goal you may have. Here's a look at four reliable and cheap car subwoofers:
Pioneer TS W308D2. The Pioneer TS W308D2 is one of the best inexpensive subwoofers on the market. It features remarkably powerful sound, considering its relatively small size (only 10 inches, which is comparatively small to many other subwoofers for cars). It also features a remarkably clear sound, giving it a leg up over other small and inexpensive subwoofers, many of which are plagued by poor sound quality. Priced around $70, this subwoofer is an excellent value.
PYLE PLSQ10D. PYLE is known for making high quality subwoofers that are, above all, affordable. While the sound quality on this subwoofer is not as great as others even on this list, the price tag is one that most stereo enthusiasts have a difficult time believing. This subwoofer is priced at just over $20 per unit, making it among the cheapest subwoofers on the market that still gives a sound that is decent or better. However, many people are of the opinion that, if you're planning on buying a subwoofer, it's worthwhile to invest a bit more money to get a slightly nicer product.
Kenwood KSC-SW10. Kenwood is not one of the very highest leading brands in terms of car subwoofers. However, this car audio manufacturer is known for producing relatively inexpensive and, above all, very reliable products. The Kenwood warranty is an excellent one, and you can feel confident in your purchase when you buy a subwoofer of this type. The subwoofer here retails for around $150, and the sound quality is quite good; better even, some would say, than the other subwoofers on this list. Of course, the price is also quite a bit higher, but you do pay a bit of a premium for the high quality of the craftsmanship of the subwoofer itself. Overall, this is a great choice for someone looking to make a longer term investment in their stereo system.
JL Audio 13W7. The 13W7 is a solidly built car subwoofer that will stand up in terms of quality of craftsmanship and sound to the others on this list. The price is comparable to that of the Pioneer listed above, and many find the sound to be very similar.