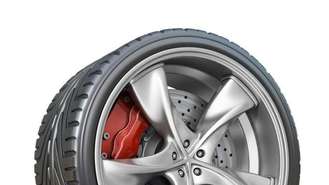 With the many other options to choose from, it is beneficial to have an idea of the benefits and drawbacks of the two main wheel types: aluminum wheels and magnesium wheels.
Aluminum Wheels Examined
Variety
The wide range of aluminum wheels available make it easy to find ones suitable for your purposes, no matter what size or style you desire. They are available from a range of different manufacturers to enable you to opt for a trusted brand. There are some manufacturers who also make other car parts, which will enable you to use the same brand throughout the car.
Cost
Aluminum wheels may not be ideal if you're on a budget. The price of the wheels will vary depending on the size and style, but they are often more costly compared to steel or magnesium wheels. Different suppliers charge different sums, making it beneficial to do some research before committing to a purchase. The difference in price usually arises from the difference in the cost to manufacture the wheels.
Durability
Compared to magnesium wheels, aluminum wheels are more durable and will last longer than other materials. Aluminum wheels are stronger than magnesium wheels, with the latter being more delicate and more difficult to make. They are strong enough for use with your car without suffering significant wear and tear in the process. They come as standard on some vehicles, making them suitable for regular cars while other types are more suited to specialized cars, such as those used for racing.
Availability
There are a wide range of retailers that supply aluminum wheels, making it easy to obtain them from a convenient location. Whether you want to shop online from the comfort of your home or prefer to be able to physically examine the goods before you make a purchase, you will be able to find a retailer to suit you. This also gives you the ability shop around in order to find the best deal and the style of wheel that you want.
Combination
It is possible for the material to be combined with other substances, such as magnesium. This will create alloy wheels that take benefits from each of the materials, which will make them both strong and light.
Handling
You will find that fitted wheels made from aluminum will change the way the vehicle handles, which will mean you have to get used to the change. The handling will often be improved, the car becoming more responsive on operation of the brake and accelerator. In addition, they are beneficial at ensuring that your tires retain their shape rather than bulging out. This can help to reduce the possibility of accidents due to the treads being able to grip the surface properly.
Magnesium Wheels Examined
Magnesium wheels certainly add a "wow" factor to a vehicle. That, of course, is the main reason people spend their money on magnesium alloy wheels. Are looks the only advantage they possess over steel or aluminum rims? consider the pros and cons of magnesium wheels before parting with your money.
Weight
Magnesium wheels are light wheels, much lighter than steel or aluminum wheels. That means they will give better mileage for your car because there's less weight to move. You'll also find that they're less prone to bend or buckle if you dip into a pot hole. This lighter weight requires less wheel balancing over the life of the magnesium wheels. It also translates into more responsive steering and handling, both of which are important factors in their favor. They corner very well with low profile tires.
On the downside, once your magnesium wheels do bend, they can't be straightened again. Because of this you have to be more thoughtful when you drive. The magnesium alloy might be durable but it does have its limits, and if you don't pay proper attention to the road you could lose your investment.
Heat
There's less overheating with magnesium wheels because they spread the heat from the brakes much more efficiently than aluminum wheels. You're less like to suffer from brakes overheating, a problem that could affect the brake pads and other parts in the braking system.
Looks
The biggest advantage that magnesium wheels offer is in the look of your vehicle. They're aftermarket wheels so they give you the chance to customize the vehicle and make it stand out from the crowd. You do need wheels that will fit your vehicle, and you can go one step further by buying chrome or colored valve caps.
The fact that magnesium wheels look so good makes them desirable to others, too. That means you'll need to use a locking nut on each wheel to prevent them being stolen.
Price
The main factor weighing against magnesium wheels is the price. They're expensive. Although magnesium wheels do confer some benefits beyond looks, those are relatively minor and not necessarily worth the price you pay.
Spending more is your decision, and magnesium wheels will have a great impact on the appearance of a car. The amount of difference they make beyond that is going to be fairly small and you need to decide if that's worth what you'll be spending.