The 2023 Audi TT and Audi TTS arrive as carryover models. The largest difference for the 2023 model year is the addition of new 18-inch wheels for the TT. Beyond the wheels, the TT and TTS still belong to the third-gen model that came out in 2016.
The upcoming TT and TTS will retain the same overall design as the current models that are on sale. The sports cars have a bulbous design with round lines and curved front and rear ends. Both models feature slim exterior lights, an enormous grille, large air intakes, and large exhaust outlets. While the TT and TTS have old designs compared to rivals, the sports cars' clean lines have aged incredibly well.
As carryover models, the 2023 Audi TT and TTS will continue to have the same interior design as the current models that are on sale. The sports cars have an interior design that put minimalism at the forefront. The simple dashboard is lined by circular air vents, there are only a few physical controls, and the sports car has athletic touches like the flat-bottom steering wheel and aluminum pedals. Without a traditional infotainment screen, the TT and TTS continue to have a modern design.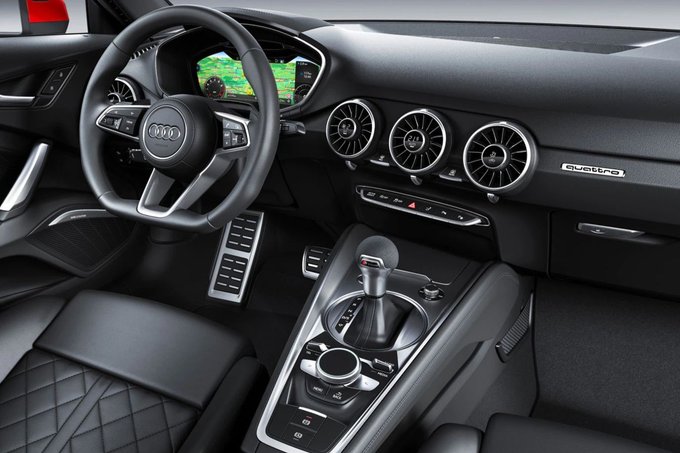 Audi isn't expected to make any changes to the TT and TTS' list of tech features for 2023. The sports cars lack a traditional central touchscreen but come with a 12.3-inch digital instrument cluster, Apple CarPlay, Android Auto, a 12-speaker bang & Olufsen audio system, Bluetooth, a wireless charging pad, and two USB ports.
The current TT comes with a turbocharged 2.0-liter four-cylinder engine that makes 228 horsepower as standard. The TTS has a more powerful version of the engine that's rated at 288 hp. Both models come with a seven-speed dual-clutch automatic transmission and all-wheel drive. These powertrains will continue to be available for the 2023 model year.
As one of the older sports cars in the class, the current TT and TTS come with a few standard safety features. A rearview camera, parking sensors, and blind-spot monitoring are the only safety features that are offered on the sports cars. We don't expect Audi to make any changes to the sports cars' safety features for 2023.