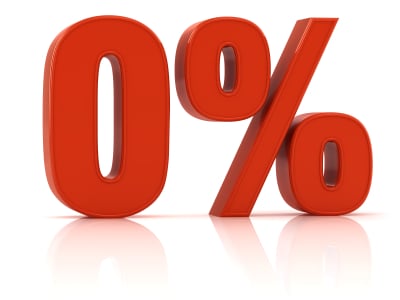 0% APR car loans are typically seen as unicorns, but unlike the mythical beast, you will occasionally see this sort of loan. The reason they're so rare is that interest is where lending institutions make a portion of their profits. But with captive finance companies working on the side of the automakers, these deals are starting to pop up every so often in an attempt to help the automaker move outdated or otherwise slow-moving inventory. Continue reading to learn more about applying for a 0% auto loan.
Applying for 0% Auto Loans
Find Reputable Lenders
Finding reputable lenders in person is a simple task, as it's far more difficult for brick-and-mortar lenders to pop up, rip off a few people, then just close up shop and disappear. On the flip side, finding reputable lenders online for 0% auto loans can be pretty difficult. You will need to do extensive research on lenders before you begin the process. Use the Internet to your advantage by reading reviews and articles about specific lenders to figure out which are safe and reputable.
CarsDirect helps more credit-challenged customers find car loans than any other website in the country. We work with a network of dealers who specialize in car loan financing. The dealer has access to a number of financial institutions and will shop around to find you the best deal. Just fill out a simple application and you will be on your way to receiving a car loan.
Choose the Car
Before you apply for the loan, choose the car that you want to purchase. Some people will attempt to find the car loan before they find the car as they want to know how much money they have for the car before they choose a model. However, a 0% auto loan often requires that you know how much the car is worth before you apply for the loan. This will help the lender determine eligibility for the loan and the down payment required.
Work the Numbers Before Applying
You need to look into all of the variables before applying for this loan. You'll need to understand how much money you can put down on the car and how much money you can afford to pay per month. Keep in mind that these loans often have high monthly payments and high down payments due to their short terms.
Choose a Few Lenders and Apply
With everything in place, it is now time to choose the lender that best suits your needs. Apply carefully, as each denial of credit comes with a small negative impact on your credit score. Too many of these, and you'll knock yourself right out of contention for a 0% loan.
The art of applying for 0% auto loans online centers on being prepared. You need to understand exactly what you need from the auto loan company and the exact terms of the loan—interest, length, and payment. Too many people jump into 0% interest loans without understanding that they may not be the best option for them. They fail to realize how much money they need to put down and how much the monthly payment will be. With a firm understanding of all the risks and rewards of a 0% auto loan will help you better understand if this is the right choice for you.