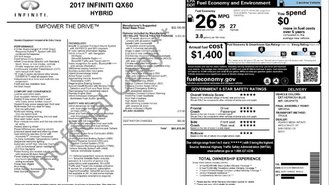 If you've ever shopped for a new car or stopped in a dealership to look at the new vehicles, you may be wondering what that big sticker is on the windows.
The Monroney Sticker
The Monroney sticker was named after Almer Stillwell "Mike" Monroney, a US Senator from Oklahoma who sponsored the Automobile Information Disclosure Act of 1958. This act enforced the idea that all new cars should disclose information on equipment and pricing, and is now required by law in the US to be displayed on all new vehicles.
Within the Monroney sticker are sections that give a buyers details about the car. The sticker includes information such as new car pricing, basic vehicle information, safety ratings, and equipment to name a few. It's illegal to sell a new car without a Monroney label on it, and if you aren't able to easily find it, you should walk away from the sale.
More than Just Sticker Price
Everything you need to know about a new car is on its Monroney label. There are 10 sections in total:
Basic model information – This section is comprised of the most basic vehicle information including make, model, year, interior and exterior color, and trim level.
Standard equipment – In this section you can find the MSRP and all items and extras included. You can find standard equipment categorized into exterior, interior, safety, comfort, and performance.
Optional equipment – The optional equipment listed in this section can either include factory-installed options bundled in packages, or pick-and-choose options.
Warranty information – Here you find the vehicle's bumper-to-bumper and powertrain warranty lengths, and any additional warranties offered.
Pricing information – A car's "sticker price" is found on the Monroney label. Lots of numbers are also listed in this section, including things like the base price, the cost of options, destination fees, and any gas guzzler tax (tax charged on vehicles that don't meet required fuel economy levels).
Parts content information – This section includes where the car was assembled, and what percentage of parts used are US/Canadian and foreign.
Total price – The Manufacturer Suggested Retail Price (MSRP) including destination charges.
Fuel economy label – In this section you can see the EPA-estimated fuel economy.
QR code – When you scan this square with your smartphone, you're directed to the EPA website where you can customize driving stats to see what your personal fuel economy might be.
Safety ratings – Listed are safety ratings from the National Highway Traffic Safety Administration.
The Bottom Line
It's important you read all of the information listed on a car's Monroney label because it lists such vital things as estimated fuel economy, safety ratings, and the MSRP of the vehicle. Plus, you can easily ask questions about the car – including pricing – with all of the information right there.
If you're looking to buy a new vehicle, but don't know where to start because you worry your credit is in the way, let CarsDirect help. We work with a nationwide network of special finance dealerships that are capable of helping borrowers with imperfect credit. We'll work to match you with a dealership in your area when you start the process by filling out our secure auto loan request form online.