What is Special Financing?
In regards to the auto industry, the term "special financing" is usually used to describe financing options for those prospective buyers who carry little-to-no credit, or a blemished credit history. That equates to roughly 65% of the general population in the U.S. who apply for car loans.
In general, only those with good or excellent credit can have access to advertised new car loan rates, while those with "subprime" credit have more limited options. Knowing your FICO credit score is essential before stepping into the credit union, bank or car dealership, as it's the number on which your eventual interest rate will be based. Why? Read on.
To get Special Financing, go to our Special Financing Page here.
FICO Scores and Auto Loan Interest Rates
Your FICO score is used by auto dealerships, banks or credit unions to calculate your credit-worthiness. The FICO scale ranges from 300 to 850
"Excellent" Credit: 720 or higher
"Good" Credit: 620 to 720
"Subprime" Credit: 620 or lower
Generally speaking, buying a car with subprime credit will lead to a much higher interest rate on your loan. Sometimes, the lender will refuse to offer terms because they do not think it's worth the risk. That's where special financing comes in. You can apply for special financing here.
New Car Buyer Special Financing Options
In the lending industry, special financing lenders are those who deal with buyers other creditors are usually unwilling to service. When pursuing special financing, don't expect to get that 0.9% interest rate you've seen advertised on TV. But that doesn't mean you can't get a new car loan.
In general, those who pursue special financing options will need to be prepared to walk in with a much higher down payment than buyers with good or excellent FICO scores. You'll need to pursue special financing independently of the car dealership, which has the advantage of turning you into a "cash buyer" once you finally hit the brick-and-mortar or online new car dealer. But you'll also likely need a co-signer, or an individual with better credit than your own who will be included on the loan. This should be a family member or someone you have mutual trust with.
You'll also likely find yourself limited in the price of the new car you can buy. Don't expect to find a pricey loan on a new BMW if your credit score is in the 500s. Lending institutions know that borrowing carries risk, and thus, special financing options have to account for those who don't pay back their loan by offering smaller loan packages with larger down payments, and at higher interest rates. However, there is some good news…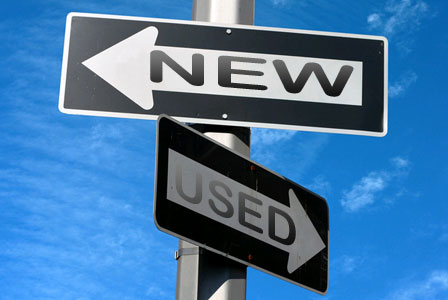 Special Financing and Used Cars
Today's used cars are outstanding in terms of style, performance and reliability. And in 2014, the average price of a new car hovers at around $30,000. Even inexpensive subcompacts, after tacking on options and fees, usually cost $17,000 or more. This leaves borrowers with low FICO scores in a predicament: even special financing lenders are often unwilling to carry the risk of working with them on a brand-new car. This is where a used car can be a much better choice.
A late-model used car just 2 or 3 model years old comes at a much lower price than when new. A smaller loan is easier to pay back, so you will likely find special financing lenders are much more willing to work with you on a used car purchase, with or without a co-signer. Some businesses offer a "one stop shop" for special financing and used cars by integrating a car lot with a lender that specializes in subprime buyers, while other online and traditional banks work specifically with matching subprime buyers with the right used car loans.
Whichever route you choose, used or new, the most important factor is to avoid buying more car than you can really afford. A new or used car loan, even at a higher-than-average interest rate, is a great way to begin repairing your blemished credit history, but only if you can keep up on the payments!