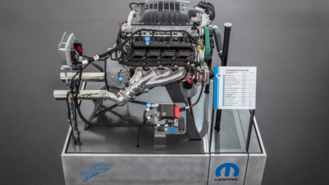 For as long as there have been cars, there have been people who've wanted to customize them. Aftermarket companies help fill the void, but automakers do dabble, too, such as Fiat Chrysler Automobiles' Mopar division, which has introduced an insane aftermarket crate engine - the Hellephant. It's a behemoth, and it costs more than a car.
Mopar unveiled the crate engine at last year's SEMA Show in Las Vegas. At the time, Mopar dropped all the juicy details like it produces 1,000 horsepower and 950 pound-feet of torque. What the brand didn't reveal was the price. But that's changed with Hemi Day (4/26) with Mopar announcing the Hellephant's $30,000 price tag along with news it's accepting preorders.
That's a lot of money for a crate engine. General Motors, famous for its crate engines, has nothing that comes close to it in performance. The Chevrolet LT4 crate engine makes 640 horsepower and costs just less than half of the Hellephant's price. So yeah, it's expensive, but there's no other crate engine like it available right now. The Hellephant costs $29.99 for every one horsepower if you want to break down the numbers.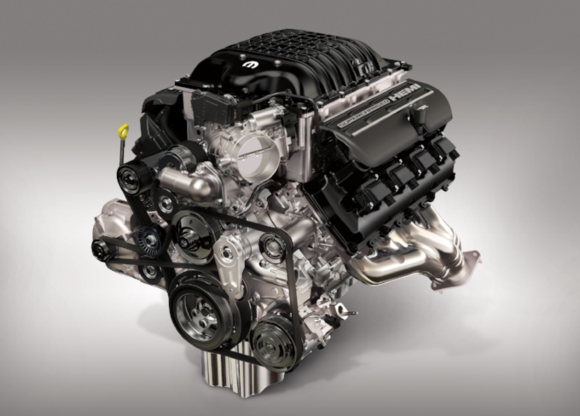 Mopar designed the high-powered engine for pre-1976 street and off-road vehicles, so it's unlikely the engine will bolt into a new Dodge Challenger. However, that doesn't mean someone somewhere won't attempt to create such a monster. Putting this amount of power into a vehicle would require a host of other performance upgrades such as upgraded brakes, transmission, and rear end. Having 1,000 horsepower on tap requires adequate stopping power just in case things fly sideways, and not in a good way.
Then there are the parts needed for the engine to reach optimal performance, which means getting the right intake, exhaust, fuel injectors, and other components that help pump fuel and air into the engine. There's no engine like it on the market, so it'll be interesting to see how the engine is used. Maybe someone will stuff it into a modern-day Challenger and give the SRT Demon a run for its money.