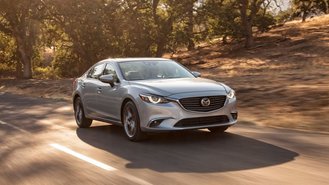 Mazda has issued a recall that affects approximately 60,000 Mazda6 sedans in North America. The issue involves improper welding on the sedan's seat design that could cause a wire shortage, which could disable the sedan's power-steering system and passenger airbag.
The recall affects Mazda6 sedans from 2015 to 2016 and requires dealers to install either insulating tape or a protective pad to protect the wires from rubbing up against welding debris.
"In this condition, multiple malfunction indicator lights will illuminate and the vehicle may experience a loss of power steering assist, but it is still possible to control the vehicle and/or take evasive action," the National Highway Traffic Administration's recall document reads. "The air bags may be deactiviated (non-functional) and not deploy if the vehicle experiences an accident which would normally warrant an air bag deployment."
Mazda claims that it's unaware of any injuries or accidents that are related to the recall, and reached out to dealers on September 22, with owners expected to receive a recall notification on Friday, September 29. The fixes will be completed free of charge.