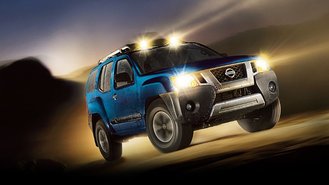 According to industry reports, Nissan plans to discontinue the rather slow-selling Nissan Xterra after the 2015 model year. The model will join the 2014 Toyota FJ Cruiser as the one of the more recent casualties in the war for more fuel-efficient crossovers. The FJ, which had a cult-like following for its throwback styling and true off-road capability was the first to go late in 2014. But its sub 15-mpg didn't sit well with consumers who feverishly tried to eke out every drop of mileage from $4/gallon gasoline.
Why the Xterra is Being Discontinued
Nissan is discontinuing the Xterra because of the high costs associated with upgrading both safety and emissions equipment. And the fact of the matter is, Nissan only sells around 16,000 Xterras per year--small potatoes when you consider they sell 47,000 Muranos and a staggering 165,000 Rogues annually.
What it Means For You
If you're in the market for an Xterra, the clock is ticking. Currently, you'll find low 1.9% APR financing on the 2015 Xterra. Or you can lease one for only $349/mo. The deals might improve, but don't count on it, as Nissan rarely offers cash rebates on the Xterra.
2015 Nissan Xterra vs. 2015 Jeep Wrangler »
But not all hope is lost. The most popular vehicle in the segment, the 2015 Jeep Wrangler, is and will still be available. And if you gotta have 4 doors, the 2015 Jeep Wrangler Unlimited is also available.
Hottest Selling 2015 Jeep Models »