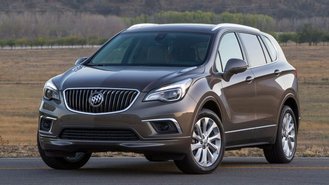 Buick is delving deeper into the red-hot crossover segment with the all-new Envision set for release this summer. With a string of updates coming across nearly its entire lineup this year, the automaker is making an effort to refine its offerings in a big way.
However, the launch of the Envision isn't as straightforward as you might think. That's because its introduction is being split into two model years— and will be priced as much as $8,000 apart. Here's what you need to know.
Starting prices
Buick order guides show the 2016 Envision will be offered in two trims: Premium I and Premium II. The Premium I will start at $42,995 with destination, while the Premium II will start at $45,635. Both will be offered only with all-wheel drive and with a 2.0-liter 4-cylinder turbo engine rated at 252 hp and 260 lb-ft of torque.
The Premium II adds standard nav, cooled leather seats, a head-up display and ultrasonic parking assist. It also gets you access to active safety tech with the $1,545 Driver Confidence Package. The option adds adaptive cruise, automatic emergency braking and surround view monitor.
That's not the whole story, however, because documents reveal more affordable versions in the works. A GM spokesperson has subsequently confirmed the 2016 Envision will get a short 4-month production run to introduce the upper trim levels first. The full range of styles and powertrains will actually debut under the 2017 model year this fall.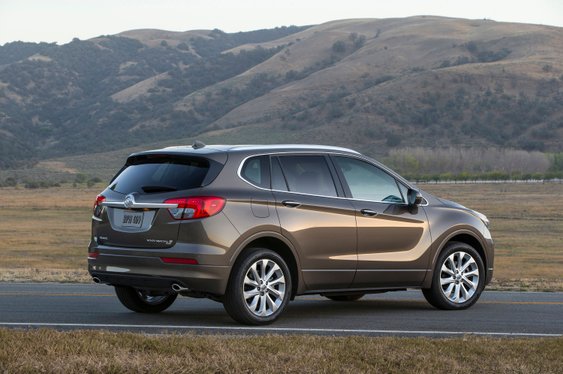 More versions coming
For 2017, Buick will increase the number of available trims from two to five by adding Base, Preferred and Essence models at the lower end of the spectrum. The new versions will come with front-wheel drive and a 2.5-liter engine rated at 197 hp/192 lb-ft (55 hp and 68 lb-ft less than the turbo). All-wheel drive will be available on Preferred and Essence models and will continue to be standard on Premium versions.
The 2017 Envision Base will start at $34,990 with destination, $8,005 less than the entry price at launch. The Base will be nearly identical to the Preferred ($36,795) but will lack an all-wheel drive option and premium paint. Both get leatherette seats and a dual-zone automatic climate system in lieu of the tri-zone setup of the other trims that has dedicated rear-seat settings. A moonroof will not be available on either trim.
The Essence with FWD starts at $38,645 and adds equipment like a heated leather steering wheel and blind spot monitor with lane change alert. It also adds perforated leather seating and an option to add a moonroof. Infotainment on the Base, Preferred and Essence centers around a 4.2-inch screen, versus the 8-inch system on Premium models. The range tops out at $45,885 before options for the Envision Premium II ($250 price increase vs. the 2016 model).
Our take
Shoppers considering a Buick will have a wide range of choices this year thanks to an all-new LaCrosse flagship, a new Verano sedan and an updated Encore crossover. The Envision appears positioned to fit nicely beneath the larger Enclave. However, knowing that more affordable versions will be coming this fall, shoppers may want to consider all their options.
That being said, there might be something else to consider. Sure, the Envision is set to eventually undercut the 2016 Acura RDX (from $36,310), 2016 Lexus NX 200t (from $35,915) and 2016 BMW X1 (from $35,795), but this may come at a cost.
Early last year, we began noticing a trend on models like the LaCrosse, as well as with other GM brands, to add base models with razor-thin margins that were excluded from sales promotions. While it's too early to say if that will be the case with the Envision, we think it's something worth keeping an eye out for.