It's shaping up to be a year of surprises for Nissan shoppers. Following news that it will add automatic emergency braking (AEB) to most of its 2018 lineup, CarsDirect has learned Nissan will be wasting no time in adding the feature to the Altima sedan.
The mid-year change will be called the 2017.5 Altima, following a similar move last month with the Rogue crossover. However, not every Altima will be getting the feature. Nissan will also be discontinuing the vehicle's base model.
So which versions get the new equipment? When will they arrive? And what's going on with the base model?
Here's what you need to know.
More Safety Gear
Beginning with cars built in June, the 2017.5 Altima will get forward collision warning with automatic emergency braking as standard equipment. The change was confirmed for CarsDirect today by Nissan spokesperson Dan Passe and follows a similar change last month with the popular Rogue crossover.
As part of a huge shift in strategy, today the automaker also announced that most 2018 models would feature AEB as standard equipment. Vehicles include the Sentra, Altima, Rogue, Maxima, Pathfinder, the redesigned LEAF and others.
The 2017.5 Altima is still in production and hasn't arrived yet. Mr. Passe couldn't provide a precise ETA at dealers, but we wouldn't be surprised if we began seeing cars arrive as soon as next month.
But there's a bit of a catch. Not all Altimas will be getting the change.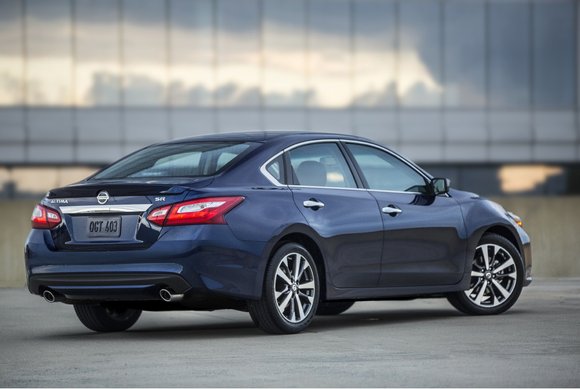 Only SV and SL versions will feature the added equipment. For reference, the current Altima is available in the following grades: 2.5 (base model), 2.5 S, 2.5 SR, and the SV and SL which are available in either a 4-cylinder or V6 configuration.
Pricing for the 2017.5 Altima hasn't been released yet, but we wouldn't be surprised if the model didn't undergo a small increase in price. That said, Nissan was able to add AEB in the Rogue at only a premium of about $400 compared to before.
At the moment, the only way to get an Altima with AEB is to opt for an SL with the Technology Package and Moonroof, which ends up with an MSRP of $32,445 with destination. The SV currently starts at $26,345, quite a bit higher than the model's base price of $23,385.
And speaking of that base model..
No More Base Model
Starting this month, the entry-level Altima 2.5 has been discontinued. Although it was rarely stocked to begin with, it enabled the automaker to advertise a low starting price.
The main differences between the 2.5 and 2.5 S were that the S added a 5-inch color display, smart headlights, cruise control, an intelligent key and compatibility with Siri Eyes Free.
Most shoppers may not care, but behind the scenes, we suspect that higher price points could put Nissan in a position to increase prices when the 2018 Altima goes on sale. We'll refrain from speculating too much for now.
Our Take
With the Fourth of July holiday on the way, June is shaping up to be an important month for midsize cars. Automakers are vying for shoppers amid a shift in interest towards crossovers by offering even more attractive deals. In fact, the Altima, Toyota Camry, Honda Accord and Volkswagen Passat now feature virtually identical lease offers.
In terms of rebates, the 2017 Altima currently features up to $5,300 in savings, considerably more than competitors. We're even seeing indications of unadvertised incentives meant to invigorate sales by allowing dealers to provide better prices. But will shoppers choose to wait until the new version goes on sale? That remains to be seen.