Nissan has been successful at capitalizing on the crossover SUV boom with its popular Rogue crossover. However, the automaker has arguably been at a disadvantage after Toyota began adding automatic emergency braking at no extra charge across its lineup last year.
However, order guides show that's set to change with a mid-year revision that will make Nissan's latest driver assistance tech standard in what will be called the 2017.5 Rogue. But with a mix of stock expected at dealers, how will buyers know the difference? And what will the new version cost?
Here's what you need to know.
Updated 5/09 to reflect a mid-year increase in destination charge from $940 to $960.
Mid-Year Changes
As part of the change, all versions of both the 2017.5 Rogue and Rogue Hybrid will now feature forward emergency braking (FEB), blind spot warning (BSW) and rear cross-traffic alert (RCTA) as standard equipment. For reference, the below video gives an overview of how these work.
The update was confirmed today via phone by a Nissan spokesperson. The company is working on an official announcement. However, although the Nissan website hasn't been updated, we're already starting to see dealers list the new version for sale.
In the "old" Rogue, buyers have to step up to the SV trim ($26,180 with destination) in order to get standard blind spot warning and rear cross-traffic alert. Emergency braking isn't available until you step up to the SL with Premium Package ($32,920).
Order guides show that Rogues manufactured starting in March get the new equipment. You'll be able to spot the newer version by looking for "2017.5" in the model description or window sticker. As one might expect, there will be some modest price increases.
Almost every Rogue and Rogue Hybrid will see a modest $400 price increase. The base Rogue S will see the largest increase of $600. The destination charge has also gone up by $20. The S will now start at $25,380, $620 more than its previous price of $24,760 including destination.
For comparison, up until recently, the 2017 Toyota RAV4 LE started at $25,870 and includes forward collision warning, lane departure alert, adaptive cruise control and more as part of what the automaker calls Toyota Safety Sense (TSS-P).
The updated 2017 Mazda CX-5 gets Smart City Brake Support at no extra charge on the entry-level Sport, but opting for lane departure warning, adaptive cruise control and more requires stepping up to the Touring with i-Activsense Package ($27,480).
Our Take
At $25,380, the 2017.5 Rogue S is in a position to undercut the RAV4 LE by $490. But Toyota isn't sitting still. As of May 7, the automaker has cut entry-level pricing by $500 and introduced new Value Packages. Clearly, both companies appear to be responding shot for shot.
Compared to the old Rogue, a $620 increase in price seems quite reasonable. But there could be another cost. If dealers have both the old and new Rogue in stock, the outgoing version could be a tough sell. The vehicle already has a $2,000 incentive, bringing real-world prices well below $22,000 assuming an aggressive dealer discount.
Will Nissan resort to larger discounts to sell the older Rogue? It's certainly possible.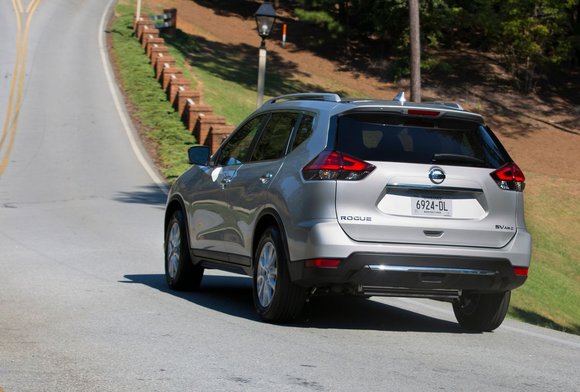 When it comes to prices, there seem to be two likely outcomes. Either the 2017.5 Rogue will end up with less discounts than the outgoing vehicle, or the automaker will be compelled to boost incentives even further on the older version. We think the former is likely, especially with the imminent introduction of the new Rogue Sport.
How will leading competitors like Honda respond? Thus far, the redesigned 2017 CR-V has been able to sell exceedingly well despite zero factory incentives. Will Nissan's strategy force its competitors to re-evaluate their positions? If so, we think the chances are good that shoppers will benefit.