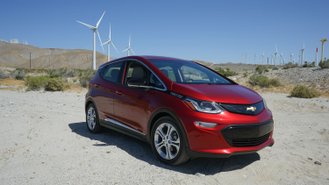 General Motors isn't putting the 2017 Chevrolet Bolt EV on sale until August – a whole month earlier than originally planned – but when it arrives, you should feel safe driving this Chevy directly into a wall (not that we recommend it). The 238-mile, all-electric hatchback has just scored a Top Safety Pick rating from the Insurance Institute for Highway Safety.
According to IIHS, the Bolt EV aced all five of its crash tests, including the tricky small overlap front test that has flummoxed older vehicles. And despite GM's decision to sequester its most advanced safety equipment as an optional extra on the top-end Premier trim, IIHS rated the Bolt EV's active safety systems as Superior, the highest ranking. The systems include the all-important forward collision warning with automatic emergency braking. There's also a front pedestrian braking system that functions like AEB, but for humans.
So, why not a Top Safety Pick Plus? It's all because of the headlights. Despite standard HID lights, the IIHS dinged the Bolt EV with its lowest possible score, "poor." Even the optional automatic high beams couldn't help Chevy's mainstream electric, while IIHS criticized the low-beam lights for "excessive glare" on both the LT and Premier trims.
While significantly smaller and more affordable, it's worth pointing out that the Bolt EV is considerably safer than the EV standard bearer, the Tesla Model S. IIHS didn't even give the all-electric luxury sedan a prize, dinging its small overlap front rating as merely "Acceptable" while putting its standard LED headlights on the same level as the Bolt's HIDs. Expect Tesla to strike back once IIHS gets to crash a few of the new Model 3 sedans, which will more directly challenge the Bolt.
Bolt EV sales may still be a few months off, but we're already seeing some solid lease and financing deals, in addition to the usual EV tax credits. Check out our pricing insights for the most recent news.