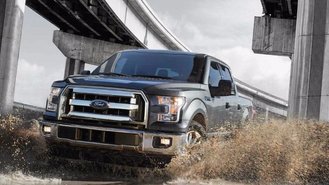 A software issue could be making your 2017 Ford F-150's instrument panel act in an unattended way.
Ford is recalling some 2017 F-150s over a problem that makes the vehicle's instruments malfunction and possibly prevents drivers from seeing crucial information. In addition to being inconvenient, the problem is possibly dangerous in the case speed, fuel level, engine temperature, or even a tire pressure warning not showing up and coming to the driver's attention as it should.
According to The Car Connection, the recall affects 7,974 trucks made between Oct. 4 and Nov. 23, 2016 – the vast majority of which are registered in the US. Ford says it has not heard of any injuries or crashes connected to this recall.
The automaker says it will be in contact with affected owners regarding a software fix for the display, at which point they will be instructed to visit a dealership so a service technician can install the update. To find out if your F-150 is affected, call (800) 392-3673 regarding recall #17C01.