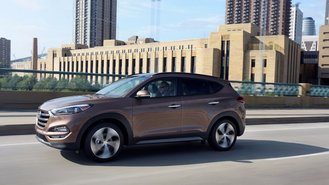 Hyundai has made a few changes in its lineup for the late 2017 and 2018 model year Tucson, including replacing the Sport trim with a new Value trim. The new trim adds a couple of different features over the previous trim and costs a little bit more money, as well.
The Tucson Value comes with 19-inch alloy wheels, a hands-free smart liftgate, heated front seats, proximity key entry with push button start, and more as standard, just like the outgoing Sport trim. The new model, though, adds a panoramic sunroof, dual-zone climate control, an auto-dimming rearview mirror, rear parking sensors, as well as front and rear LED map lights as standard.
For all of the additions, the Value trim, which is available in both front-wheel drive and rear-wheel drive – just like the old Sport Trim – costs $650 more. The front-wheel-drive Tucson Sport costs $26,850 (including the $950 destination fee), while a Tucson Value with front-wheel drive is priced at $27,500. Add $1,400 to that figure for an all-wheel-drive model.
True to its name, the new Value trim is a good bang-for-the-buck proposition over the previous Sport trim, as adding an auto-dimming rearview mirror onto a Tucson as an accessory costs $295 on its own. And with even more standard features on hand, the Tucson Value is an enticing option for those that don't want to splurge on the range-topping Limited trim but want to live a little nicer.