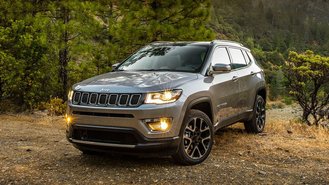 Jeep wants to find yet more success in the redesigned 2017 Compass, and it may do so with more than off-road credentials.
According to Motor Trend, the EPA officially rated the new, all-wheel-drive-equipped, nine-speed automatic Compass – likely to be the most popular configuration – at 30 miles per gallon on the highway. That bests the smaller Jeep Renegade by one mpg with the same engine and transmission.
While the Renegade is smaller overall, it shares lots of components under the skin with the new Compass. Different engine and transmission tuning as well as different aerodynamics between the two cars likely contribute to the better economy.
The EPA hasn't rated the 2017 Compass with its other drivetrains, which include front-wheel-drive variants with either a six-speed manual or six-speed automatic. At 22 city, 30 highway and 25 combined, the Compass pales in comparison to some of its closest rivals, such as the all-wheel-drive versions of the 2017 Honda CR-V (29 mpg combined) and the Nissan Rogue AWD (27 mpg combined). The Compass loses out to larger offerings, too, like the 28-mpg combined Subaru Outback. Still, the Compass is even with the 1.6-liter, turbocharged Hyundai Tucson and the 1.5-liter, turbocharged Ford Escape 1.5T, both with all-wheel drive.
We'll know more about the new Compass when it hits US showrooms in the spring.