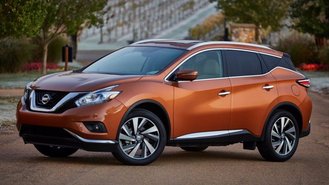 Nissan is giving its popular Murano crossover unusual half-year updates. Called the 2017.5 Murano, the vehicle will boast added safety gear, Apple CarPlay connectivity and a new Midnight Edition.
So what will the changes consist of? How much will it cost? Is it worth waiting for? And when will it arrive? Here's what you need to know.
Mid-Year Changes
One of the key selling points of the 2017.5 Murano will be Apple CarPlay compatibility. It will now be standard on SV and higher versions, but also available on the entry-level S with the optional Navigation Package (+$890).
Safety will get a boost with a new Driver Assistance Package on the SV model with Premium Package. The option (+$900) adds the automaker's 360-degree Around View with Moving Object Detection, Driver Attention Alert, Blind Spot Warning and Rear Cross Traffic Alert.
More advanced features like adaptive cruise control, forward collision warning and emergency braking will continue to be available on the Murano SL with Tech Package (from $40,500) or the Platinum with Tech Package (from $42,810).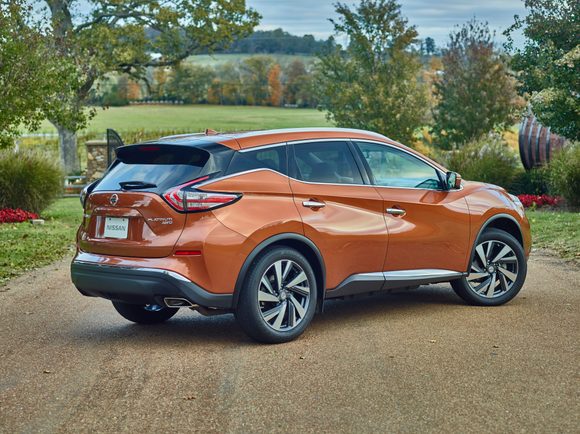 Also new is a Midnight Edition like the one available on the Altima and Maxima sedans. In the case of the Murano, the option will be offered on the range-topping Platinum model equipped with the Tech Package.
Midnight Edition pricing and specs haven't been officially announced yet, but Nissan's order guide indicates it will add 20-inch black aluminum alloy wheels, black outside mirrors, black roof rails, black splash guards and unique carpeted floor mats.
Half Model Years
Half-year models are rare but not unheard of. Last year, Mazda added a rear camera to its popular CX-5 crossover and made navigation standard on more expensive versions and referred to the newer version as a 2016.5 model.
In a more extreme case, Toyota added enhanced protection for offset crashes (like the kind that undergo rigorous tests that determine if a vehicle receives a top IIHS safety rating) with the 2014.5 Camry.
MSRP Changes
Pricing will see increases of up to $430. At the entry level, shoppers considering a base Murano S won't see much of a change.
Those looking to buy soon may want to consider waiting for the newest version, especially if features like Apple CarPlay or extra safety features are a priority.
Here's a breakdown of the new pricing.
2017.5 Murano Front-Wheel Drive Pricing
Vehicle Trim
Old MSRP
New MSRP
Price Increase
S
$30,680
$30,710
$30 Increase
SV
$33,740
$33,910
$170 Increase
SL
$38,070
$38,240
$170 Increase
Platinum
$40,120
$40,550
$430 Increase
Note: Prices include $940 destination charge
2017.5 Murano All-Wheel Drive Pricing
| | | | |
| --- | --- | --- | --- |
| Vehicle Trim | Old MSRP | New MSRP | Price Increase |
| S | $32,280 | $32,310 | $30 Increase |
| SV | $35,340 | $35,510 | $170 Increase |
| SL | $39,670 | $39,840 | $170 Increase |
| Platinum | $41,720 | $42,150 | $430 Increase |
Arriving Soon
According to Dan Passe, Senior Manager of Nissan Product Communications, we can expect a full reveal of the new Midnight Edition at the Chicago Auto Show in February. That being said, our analysis indicates the first 2017.5 Muranos are already beginning to arrive now at some dealers.
Telling apart the 2017 and 2017.5 models may be difficult. The best way is to look at the window sticker and online vehicle description carefully. The other way will be to look at the MSRP to see whether the vehicle in question has the old price or the new price.