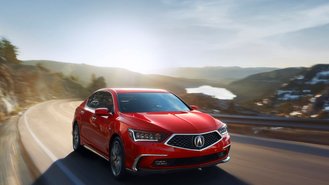 Acura will unveil the updated 2018 RLX sedan at the Monterey Car Week, next week in Monterey, CA. The facelifted RLX will wear Acura's "Precision Crafted Performance" design language, which was first seen on the MDX crossover and more recently on the TLX sedan.
The highlight of the new layout is the pentagonal front grille, which gives the RLX a sportier, wider, and more imposing look. There are also new front headlights, a modified bumper, new wheel designs, and an updated rear fascia with tweaked taillights and diffuser.
The RLX has been heavily criticized for its bland exterior design, so Acura is undoubtedly hoping this revamp will allow it to stand out better against its competitors. That said, the changes on the interior are limited to the restyled seats and usage of more upscale materials.
The base powertrain is a 310 horsepower 3.5-liter V6 engine. Power is channelled to the front wheels via a 10-speed automatic gearbox – the latter a first for an Acura model. Four-wheel steering is standard. Customers wanting more performance can opt for the all-wheel drive hybrid option, which pairs a V6 engine with three electric motors for a total output of 377 horsepower and 341 pound-feet of torque. Acura distilled this powertrain from its NSX supercar, and despite the more reasonable power, it should be a compelling option for RLX drivers with a heavy foot.
The 2018 RLX will be available at dealerships from November with pricing coming out soon. For reference, the 2017 RLX costs $55,400 (including a $950 destination charge) for the standard V6 option and $60,900 for the hybrid variant. While that's a lot of coin for either powertrain, the RLX is a dedicated luxury model and acquits itself well against sportier competitors. That hasn't helped sales, though.
Last month, Acura only sold 64 RLX sedans and it's only moved 619 units this year – the Cadillac CTS, which is hardly setting the segment on fire, sold 786 units in July alone.