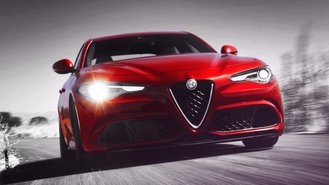 Alfa Romeo's most expensive model is going to get a little bit more expensive for its second year on the market. The price of the 2018 Alfa Romeo Giulia Quadrifoglio is climbing from $73,595 (including a hefty $1,595 destination charge) to $75,095. But that $1,500 premium is no bad thing.
From model year 2018 on, the 505-horsepower Giulia will add a 14-speaker Harman Kardon audio system and forward collision warning with automatic emergency braking as standard equipment, Alfa Romeo confirmed to CarsDirect. Considering the two features demand an extra $1,400 on the 2017 Giulia Quad – $900 for the audio system and $500 for forward collision warning – this amounts to a year-over-year increase of just $100. Seems reasonable for two worthwhile features.
Adding standard forward collision warning with auto emergency braking also gives Alfa Romeo a safety trump card against its two biggest rivals, the BMW M3 and Mercedes-AMG C63, which only offer the equipment as part of pricey packages that build on other equipment groups. Adding the safety tech to the M3 requires a total of $5,600 – $1,700 for the Driving Assistance Plus Package and $3,900 for the Executive Package. You'll spend $4,450 to get auto emergency braking on the C63, thanks to the $2,250 Driver Assistance Package and its prerequisite, the $2,200 Multimedia Package.
Things are more neutral on the audio front – the M3 gets a standard 16-speaker Harmon Kardon audio system and the Mercedes packs a 13-speaker Burmester setup to the Giulia Quad's standard 14-speaker setup.
Of course, it bears mentioning that the Giulia Quadrifoglio's $1,500 price increase for 2018 won't necessarily translate to leasing. And as we told you last week, figuring that out is far from a precise science.