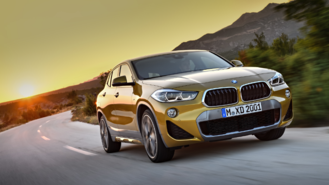 After failing to earn an Insurance Institute for Highway Safety (IIHS) Top Safety Pick award, BMW went back to the drawing board to redesign the headrests on the 2018 BMW X2. The effort appears to have paid off for the German automaker. The previous design didn't adequately protect passengers from the risk of whiplash in the event of a rear-end collision.
The previous design earned an "Acceptable" rating; however, with the new headrest design, the X2 earns a "Good" rating. While the 2018 X2 earned "Good" ratings in every IIHS crash test, the X2's headlights earned an "Acceptable" rating. This prevented the X2 from earning the Top Safety Pick Plus award.
Customers who want the safer headrests in the BMW X2 will have to look closely. BMW made models with the redesigned headrests starting after July 2018. For the time being, dealerships will likely have models with both headrests in stock. But not every X2 with the new headrests receive the award. For the X2 to earn the award, it also has to come with the optional automatic emergency braking system, which earned an "Advanced" rating. The braking system is available through the $700 Driving Assistance Package.
Headrests are more than just an aesthetic feature. They're an essential part of passive safety features that protect passengers from whiplash in the event of a crash. A person's head will fling forward in a collision and then bounce backward with the headrest keeping the head from overextending backward and causing injuries.