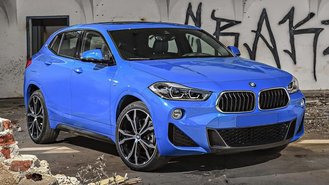 Thinking about headrests as a safety issue seems odd in 2018. Gone are the days of cars with poorly designed headrests or no headrests at all. However, the 2018 BMW X2 is in hot water after it earned an "Acceptable" rating for its headrest protection from the Insurance Institute for Highway Safety (IIHS).
The IIHS said BMW plans on improving the X2's headrests, which the company will test again in September. The new design, if it receives a "Good" rating (the highest possible from the company), will give the compact crossover a "Good" rating across every IIHS crash test category.
The IIHS says the headrests in the 2018 BMW X2 don't adequately protect passengers from the risk of whiplash in the event of a rear-end collision. Considering the IIHS tests a large number of vehicles, there are just four others that didn't receive a "Good" headrest safety rating. Right now, the X2 sits with the BMW i3, Dodge Challenger, and Nissan Frontier, which all earned "Acceptable" ratings for their lack of adequate headrest safety.
BMW hasn't disclosed how it'll change the headrest or when these new headrests will make it into production vehicles. Once BMW improves the design, the crossover could qualify for the IIHS' coveted Top Safety Pick award.