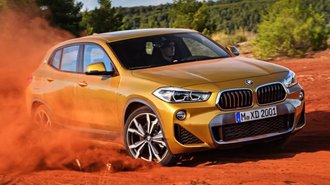 With over 40 model variants to choose from, BMW has a lot for luxury shoppers to choose from.
For 2018, the new X2 offers a sharply styled alternative to the X1, 3.2 inches shorter with a coupe-like roof at the lower-priced end of a crowded segment.
Although the vehicle isn't due to arrive until spring, order guides reveal production began in November and that pricing will start just south of $40,000.
Here's a look at where this puts the X2.
Under $40k
At $39,395 ($995 destination charge included), the X2 xDrive28i is $2,500 more than the $36,895 sticker price of an X1 xDrive28i. Next to an X4, it has a $9,200 advantage compared to that vehicle's hefty $47,600 price tag.
For this price, you get the same 228 hp 2.0-liter turbo from the X1, SensaTec seats, 7-speaker audio and 18-inch Y-Spoke alloy wheels. A $2,350 Convenience Package adds power-folding mirrors, a panoramic roof, auto-dimming mirrors, lumbar support and more.
A Driver Assistance Package adds safety tech like lane departure warning, forward collision warning, low-speed emergency braking, adaptive cruise control and more. Oddly, blind spot detection isn't listed as an option.
The Driver Assistance Package is priced at $700 but can add up to $5,650 because it requires selecting options popular with shoppers like the Convenience Package and $2,600 Premium Package.
For something sportier, the $4,650 M SportX Package adds a big dose of M-like flavor.
Along with most of what you'd get with the Convenience Package, you get 19-inch Bicolor wheels, a sport-tuned transmission, M Sport suspension that's 0.4 inches lower, an M steering wheel, unique bodywork and more. Pairing it with the $600 Dynamic Handling Package brings the price to $44,645.
Competitive Analysis
At just under $40,000, a base X2 occupies a rather odd space with no direct competitors. At the low end, the X2 is $3,000 more expensive than a GLA250 4MATIC ($36,395).
Next to an Acura RDX with all-wheel drive ($38,295), the X2 is just $1,100 more expensive. Compared to a Land Rover Discovery Sport SE 4x4, the difference is just $605.
Further upmarket, the X2 is $3,400 less than a Range Rover Evoque SE 4x4 ($42,795). It's also $3,650 less than a GLC300 4MATIC ($43,045) and $8,200 less than the GLC300 Coupe ($47,595).
We suspect the vehicle will likely appeal mostly to X1 shoppers considering something more unique-looking. Having said that, MSRPs can be a lousy way to cross-shop luxury cars.
That's because desirable features can easily bring you to a much higher price point. For example, based on our analysis, simply adding leather to the X2 will turn the $39,395 vehicle into one costing over $43,000 with required options.