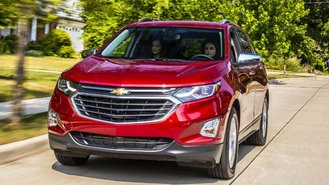 With every automaker wanting to stay competitive in the popular and expanding SUV segment, little things can cause consumers to look in another direction. Safety is one of the big selling points for SUVs, and having a poor safety score could have consumers leaning towards another option. Not wanting to lose out in sales, General Motors has made changes to the 2018 GMC Terrain and 2018 Chevrolet Equinox to make them safer than before.
According to The Car Connection, GM made an unusual running update to the two SUVs to improve their side-impact crash safety scores. The update saw GM update the vehicles with more welds and foam blocks in the rear driver- and passenger-side doors. These changes were made to Terrains built after November 28, 2017 and to Equinox SUVs built after February 19, March 5, or March 12, 2018 depending on what factory it was assembled at.
The updates greatly helped the vehicles' safety scores. When federal testers initially tested the Terrain and Equinox, both SUVs received just a three-star rating for rear passengers. The poor rear passenger crash test brought the rating of the two vehicles down to an overall safety rating of four out of five stars. Later models that were tested with the update received a five-star rating for rear passenger crash safety, as well as an overall five-star rating.
A GMC spokesman confirmed the running update that was made to the vehicles to the outlet. The spokesman also confirmed that the automaker asked for a retest of its vehicle.
If safety has been stopping you from purchasing a Terrain or Equinox, this is good news. Automakers, as The Car Connection points out, rarely go through with running updates, as the cost of retooling for multiple vehicles is high.