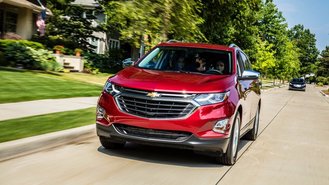 The 2018 Chevrolet Equinox will return up to 39 miles per gallon on the highway and cover 577 miles per tank with its new diesel engine, the company confirmed on August 14.
Shared with the Cruze Diesel, the Equinox's newest engine is a 1.6-liter four-cylinder turbodiesel that makes 137 horsepower and 240 pound-feet of torque. Ninety-percent of the torque is available from 1,500 rpm, giving drivers ample grunt for daily driving. A six-speed automatic gearbox comes standard (despite the Cruze using a new, more efficient nine-speed automatic).

The Equinox Diesel's EPA-estimated highway rating easily surpasses the crossover's most fuel-efficient rivals, the hybrid versions of the Toyota Rav4 (30 mpg) and the Nissan Rogue (35 mpg). It's worth noting, though, that Chevrolet hasn't given us all the facts here – we don't know what kind of mileage an all-wheel-drive Equinox Diesel will return, and we don't know how the front-drive model will perform in the city. The Cruze Diesel packs an EPA-estimated
The 2018 Equinox Diesel goes on sale later this fall with prices starting at $31,435 (destination included). That price isn't dramatically more than the Toyota Rav4 Hybrid ($30,025), although the Nissan Rogue Hybrid looks like a real value – it's a steal at $27,600 for a base model and $32,520 for the top-end trim.