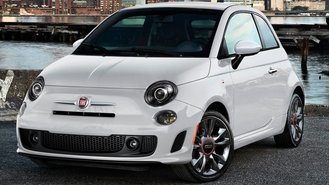 The pint-sized FIAT 500 is getting a relatively super-sized price increase for 2018. Tweaks like a more powerful base engine and sportier design will come with up to a $1,500 premium compared to the previous year.
Equipped with an automatic, the car will start at nearly $18,500— more than competitors like the Honda Fit. As a result, the slow-selling hatchback could be a tougher sell in a segment seeing shrinking customer demand.
Here's what you need to know.
Price Hikes
Order guides reveal the 2018 FIAT 500 Pop will have a base MSRP of $16,245, $1,250 more than the previous year's sticker price of $14,995. However, a closer look reveals there's a bit more to the story worth knowing about.
As we reported back in March, destination charges from Fiat Chrysler have also gone up. The 500 now requires $1,245, which is $250 more than last year's destination fee of $995. As a result, a 500 Pop with 5-speed manual will now start at $17,490, a $1,500 increase over the previous year.
That's a year-over-year change of 9.4%, much higher than what we're used to seeing. Opting for a 6-speed automatic adds $995, which means the version you're more likely to find in stock will start at $18,485, $600 more than a Honda Fit LX with CVT.
Next up, the FIAT 500 Lounge will start at $20,990, $1,500 more than last year. At the top of the range, the 500 Abarth has been priced from $21,740, an increase of $750. Prices for the soft-top 500c are going up by the exact same amounts.
For 2018, the 500 Pop and Lounge get a more powerful turbo engine making 135 hp, 33% more than last year's 101 hp. A sport-tuned exhaust and twin intercoolers are also standard. Other updates include larger wheels, a sportier suspension, a standard rear camera, color-keyed bodywork, a rear spoiler and more.
The model's journey here in the U.S. has certainly had its share of twists and turns. For 2017, the brand cut base prices by $2,000, a move that allowed it to advertise low prices without having to offer rebates worth as much as $4,500.
Now, FIAT seems poised to compete in a shrinking market by appealing more to buyers looking for a fun-to-drive little car. But will the automaker be able to do so without having to resort to offering huge discounts? That remains to be seen.