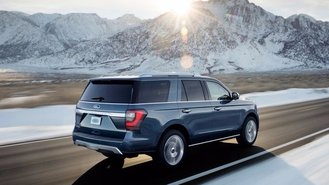 The 2018 Ford Expedition got its first full redesign in 10 years at the Chicago Auto Show in February 2017, but up until now, Ford's been cagey about the big brute's fuel economy figures. But those official numbers? They're darn good.
The new Expedition, with its 3.5-liter EcoBoost V6 engine and 10-speed automatic transmission, is capable of getting a combined rating of 20 miles per gallon, which broken down equates to 17 mpg in the city and 24 mpg on the highway. Those figures are for two-wheel-drive Expeditions. Adding four-wheel drive to the massive SUV brings the fuel economy figures down to 22 mpg on the highway and a combined rating of 20 mpg. The four-wheel-drive Expedition's fuel economy rating in the city remains the same at 17 mpg.
With those figures, the 2018 Expedition is the top dog of the class when it comes to fuel economy. The two-wheel-drive variants of the Chevrolet Suburban and Tahoe are only good for a combined rating of 19 mpg with 16 city and 23 highway, while the most efficient versions of the Nissan Armada and Toyota Sequoia are even further off, netting 14 city, 19 highway, and 16 combined for the former and 13/17/15 for the latter.
When driving on the highway, Ford claims the most fuel-efficient Expedition can travel up to 538 miles on a single tank. Another interesting tidbit about the new Expedition is the fact that it's as fuel efficient as the 2017 Explorer with the 3.5-liter V6 engine and front-wheel drive.
We're driving the 2018 Expedition next week and are expecting Ford's largest SUV to hit dealers in November.