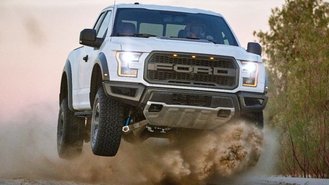 The 2018 Ford F-150 remains one of the most popular vehicles in America with a dizzying array of configurations from which to choose. However, the cost of the two plushest and most potent variants just got a bit more expensive.
Recent order guides show the Raptor and Limited styles are now up to $1,090 pricier than this same time last year. As a result, the most expensive F-150 will now start just north of $66,000.
Here's what you need to know.
New Price Hikes
Starting this month, the 2018 F-150 Raptor Super Cab now starts at $52,170 including destination, while the Super Crew variant is priced from $55,155. The prices are up $660 next to the previous amounts of $51,510 and $54,495.
At the very top of the range, the F-150 Limited now starts at $62,855 for the 4x2 and $66,280 for the 4x4. In both cases, this equates to a $610 price increase compared to the previous prices of $62,245 and $65,670.
Apart from the higher base MSRPs, the numbers listed here include a $100 increase in freight. All versions of the F-150 now have a destination charge of $1,495. We're seeing no evidence of a change in standard equipment.
It may not be obvious, but these prices are actually over $1,000 more expensive than where the F-150 started at around this same time last year. Since then, there have been at least two price increases.
The 2018 Raptor originally started at $51,080 before rising to $51,510 and settling at $52,170. That's a $1,090 swing over the course of one model year. The Limited is up $1,040 from the initial MSRP of $61,815 to the current $62,855.
Mid-year price increases aren't all that unusual, and it's worth noting that boosting profitability has been a key goal for Ford. The brand recently revealed it would stop selling nearly every car here in the U.S. by 2020.
Having said that, the latest changes make an already pricey truck even more costly to obtain. In the case of the Raptor, buyers already have to deal with high mark-ups and the fact that the model is excluded from factory incentives.