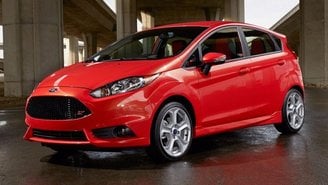 When the 2018 Ford Fiesta arrives in showrooms sometime in the near future, the vehicle will follow the regular trend of offering a few more features in a similar, but minimally revised exterior. Unfortunately, the vehicle won't be offered with the peppy 123-horsepower, 1.0-liter three-cylinder Ecoboost engine.
While the punchy 1.0-liter will soldier on in certain global markets, it won't return to the US-market Fiesta. The decision, according to Ford spokesman Dan Jones, was made "based on customer demand."
That's unfortunate, as the 1.0-liter engine helped the subcompact achieve 31 miles per gallon in the city and 41 mpg on the highway. But it achieved that fuel economy without feeling like an anemic liability – the Ecoboost triple had robust low-end torque and a throaty, unbalanced engine note that gave it both more bark and more bite than the Fiesta's standard 1.6-liter, naturally aspirated four-cylinder. While it's debatable whether American shoppers really understood the three-cylinder Ecoboost, Ford didn't exactly go out of its way to make the tiny engine attractive – it charged an additional $995 for the three-cylinder and forced owners to live with a five-speed manual transmission.
With the 1.0-liter three-cylinder engine taken off of the options list, the 1.6-liter inline-four is the only available engine choice for the Fiesta. The 120-hp 1.6-liter engine is not only down on power, but it also gets worse fuel economy than the 1.0-liter engine, returning 27 mpg in the city and 37 mpg on the highway.
The bad news doesn't stop there, though, as the Fiesta's base engine can't compete with the competition when it comes to fuel economy. The Toyota Yaris iA, Honda Fit, Hyundai Accent, Chevrolet Sonic, and Kia Rio all offer better fuel economy figures, putting the Fiesta towards the bottom of the list for consumers that want the best fuel economy figures.
Ford's decision doesn't completely snuff out its 1.0-liter engine here in the US, though. The Ecoboost triple remains the base engine in the larger Focus SE Sedan, where it's paired with a standard six-speed manual or an optional six-speed automatic (for an additional $1,095).